You are here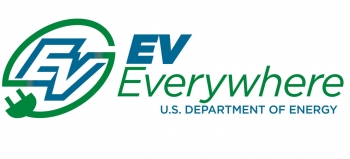 The brand-new logo for EV Everywhere, the effort to encourage the adoption of plug-in electric vehicles. The Energy Department ran a contest to choose a logo, and the winning design was submitted by Brian Marquis.
How do you capture the idea of an electrified transportation system in a single graphic? That was the task facing the designers who participated in the Energy Department's recent EV Everywhere Logo Challenge. Fortunately, 50 artists took on this difficult mission, submitting more than 80 entries. In the end, we picked only one winner:  Brian Marquis.
This logo competition is part of a larger effort to expand education and outreach on plug-in electric vehicles (EVs). EVs are the smartphones of cars: they run on electricity, are connected wirelessly, and are fun and practical. Raising awareness of their benefits is essential to helping people decide if an EV is right for them. The Energy Department supports a broad technology portfolio aimed at meeting the goal of the EV Everywhere Grand Challenge—to have  the U.S. become the first nation in the world to produce EVs that are as affordable and convenient to the average American family as a 2012 gasoline vehicle by 2022.
The logo competition helped us spread the word about our new outreach effort. This educational effort features the logo as a graphic focal point and our EV Everywhere website, a go-to source of information with customizable tools for consumers. The contest also provided us with innovative, diverse logo designs. From cars shaped like leaves to charging plugs, the submissions had many different ways of representing the idea of electric fuel. We received so many excellent designs that it was difficult to choose a single winner!
To narrow down the designs, we enlisted the assistance of experts from the automotive, non-profit, energy, and marketing fields. They scored the designs based on three specific criteria:
the effectiveness of communicating the EV Everywhere mission and brand;
creativity and originality; and
replicability.
The winning logo suggests the concept of charging with its plug symbol and captures the vibrancy of EVs with its bold look.  In addition, the circular wire creates a sense of motion that is evocative of transportation and vehicles. 
We look forward to working with Mr. Marquis  He will receive a $5,000 prize as well as have his logo featured on a variety of communications media related to EV Everywhere. Thank you to everyone who participated in the logo competition and to those who support transportation electrification. To learn more about the Energy Department's efforts to increase the adoption of EVs, check out the EV Everywhere website.