While America's national parks are nearly synonymous with "road trip," most parks offer visitors a variety of ways to get around besides personal cars. Because transportation within the park, including visitor vehicles, accounts for 85% of the average park's greenhouse gas emissions, reducing the number of vehicles on the road can make a big difference.  With the help of the U.S. Department of Energy's Clean Cities program, the National Park Service (NPS) is working on sustainable travel options, including using more efficient vehicles themselves and encouraging visitors to "green their rides" in the parks to minimize their contribution to climate change and air pollution. To help visitors learn more, NPS and Clean Cities have put together a Green Our Rides video. 
Once visitors reach the parks, there are a variety of transportation options that provide unique travel experiences.  Non-motorized choices such as biking and walking minimize pollution, reduce traffic congestion, and maximize visitors' exposure to the parks' natural beauty and historical sites.  Just one small travel change can make a big difference. If every visitor and employee biked instead of drove five miles, it would save 1.47 billion pounds of carbon dioxide. Check out the Green Our Rides infographic for information.
Many parks also have extensive bus systems that allow visitors to sit back and enjoy the scenery.  Through the use of its 21 propane shuttle buses, Zion National Park visitors and employees produce 5 million fewer pounds of carbon dioxide emissions each year than if they drove their own vehicles. There are 131 alternative transportation systems in 66 parks including Glacier National Park, Grand Canyon National Park, and Mammoth Cave National Park. 
Even if visitors drive their own vehicles, there are plenty of opportunities to reduce their environmental impact. Many parks working with Clean Cities are running idle reduction campaigns to encourage employees and visitors not to idle their vehicles, such as while stopped, waiting, or taking photos of animals or scenery.  Visitors can also maximize their fuel economy by observing the speed limit, removing empty roof racks when not in use, and inflating their tires before leaving on their trip.  Learn more tips to save you fuel and money on FuelEconomy.gov.
The Green Our Rides program is part of the larger Clean Cities National Parks Initiative.  Clean Cities collaborates with 27 national parks across the country to carry out sustainable transportation projects to cut petroleum use and greenhouse gas emissions.  Learn more about this program on the Clean Cities National Parks Initiative page.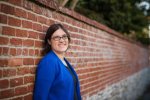 Shannon Brescher Shea
Shannon Brescher Shea (shannon.shea@science.doe.gov) is the social media manager and senior writer/editor in the Office of Science's Office of Communication and Public Affairs.
more by this author