You are here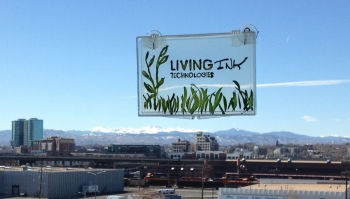 Living Ink Technologies has developed a patent-pending technology that uses algae to transform carbon dioxide into ink that is cheaper, healthier, and more environmentally sustainable than traditional ink. | Photo courtesy of Living Ink Technologies
Living Ink Technologies won first prize on Thursday at the Energy Department's National Clean Energy Business Plan Competition regional contest in Boulder, Colorado.   
Living Ink has developed a patent-pending technology that uses algae to transform carbon dioxide into ink. One of the most expensive liquids people buy, traditional ink is hazardous to both human health and the environment, as it is derived from petroleum and toxic chemicals. By contrast, Living Ink's algae-based ink is cheaper, healthier, and environmentally sustainable. Living Ink is initially focusing on the toy, greeting card, and promotional products space with the goal of eventually transforming the ink industry as a whole. The founders developed their technology as Ph.D. candidates in the Cell and Molecular Biology Program at Colorado State University.
Six student teams competed for the top prize at the University of Colorado Boulder (CU-Boulder) Clean Energy Competition Regional Championship, where they entered their business ideas into one of three categories: energy efficiency, renewable energy, or infrastructure and resources. The Deming Center for Entrepreneurship, in partnership with the Department of Energy (DOE), hosted the competition. Technologies presented at the competition included hybrid electric conversion kits for vehicles in developing countries, a device that makes school buses more aerodynamic, and a patented technology to harness energy from ocean waves, among others. Ultimately, Living Ink Technologies took home the top prize of $50,000.
The National Clean Energy Business Plan Competition aims to promote entrepreneurship in clean energy technologies that will boost American competitiveness, bring cutting-edge solutions to the market, and strengthen our economic prosperity. After winning the CU Clean Energy Competition Regional Championship, Living Ink Technologies will now join FGC Plasma Solutions, winner of the Clean Energy Challenge, and Hyliion, winner of the DOE Clean Tech Prize at the Rice Business Plan Competition, at the fourth annual DOE National Competition in Washington, D.C on June 24.
At the National Competition, regional finalists will compete for a $50,000 cash prize and unique in-kind services to help commercialize their technologies. Previous competitors have gone on to launch more than 70 start-ups, create 120 jobs, file 55 patents and disclosures, and raise $60 million in follow-on funding.
Check the EERE Blog for updates on the remaining regional contests.