You are here
Student teams network during the Cleantech Forum in Washington, D.C. The forum was part of the National Clean Energy Business Plan Competition. | Energy Department photo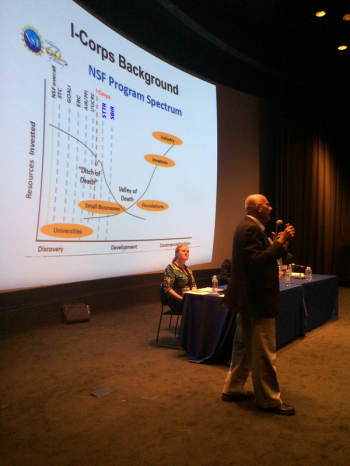 Rathindra DasGupta, director of the National Science Foundation's I-Corps Program, speaks during a panel discussion at the Cleantech Forum. | Energy Department
The National Clean Energy Business Plan Competition has arrived.  Winners from the six regional competitions are in Washington, D.C., and will deliver their final business plan pitches tomorrow to a panel of expert judges in an effort to take home the National Grand Prize.  The competition aims to equip university teams with skills to create new businesses that develop innovative clean energy products to strengthen the economy, boost American competitiveness, and reduce carbon pollution. 
The festivities kicked off today at the Cleantech Forum, where the finalists and runner-ups met with public and private sector stakeholders to learn about financial opportunities that will help them grow their businesses.  The teams also:
Showcased their business plans during a poster session,
Learned the role of incubators and accelerators as the next step in developing their companies,
Learned how the federal government supports businesses at the technology-demonstration stage through technical assistance,
Learned what federal funding opportunities are available for clean energy companies.
Today's events at the Cleantech Forum set the stage for tomorrow's big finale. Follow the conversation on Twitter using #2014doebizplancomp and check Energy Blog  to find out which team won.