FGC Plasma Solutions from Case Western Reserve University in Ohio won the top student prize Tuesday at the Clean Energy Trust Clean Energy Challenge in Chicago, the first regional contest for the Energy Department's National Clean Energy Business Plan Competition. 
FGC Plasma Solutions has developed a novel way to inject fuel into jet engines that improves safety while decreasing fuel consumption. The technology uses plasma to modify the combustion reaction. Although plasma-assisted combustion is a known phenomenon that has been studied for more than 30 years, commercializing this technology—moving it out of the lab and into a jet engine—has been a challenge. To implement their method, FGC Plasma Solutions plans to integrate plasma-assisted combustion topology with a fuel nozzle—developed as a plug and play solution—which can be easily installed during routine maintenance.
An audience of more than 400 people—mainly from the energy sector—watched teams from across the Midwest compete for $1 million in prizes in two categories: Student Track and Early Stage. Ultimately, FGC Plasma Solutions took home the top Department of Energy Student Prize of $50,000 as well as the $50,000 Aviation Clean Energy Award, sponsored by Boeing, United, and UOP Honeywell. Other winners included last year's Clean Energy Challenge student runner-up team AMPY and 2012 National Clean Energy Business Plan Competition winner NuMat Technologies, which were awarded $200,000 and $300,000, respectively. AMPY is a device that captures the wearer's kinetic energy to charge smartphones and other devices, while NuMat's technology improves the safety and efficiency of gas storage.
The National Clean Energy Business Plan Competition aims to promote entrepreneurship in clean energy technologies that will boost American competitiveness, bring cutting-edge solutions to the market, and strengthen our economic prosperity. After winning the Clean Energy Challenge, FGC Plasma Solutions now qualifies for the Energy Department's fourth annual National Competition in Washington, D.C., on June 24.
At the National Competition, finalists from five regional competitions will compete for a $50,000 cash prize and unique in-kind services to help commercialize their technologies. Previous competitors have gone on to launch more than 70 start-ups, create 120 jobs, file 55 patents and disclosures, and raise $60 million in follow-on funding.
Check the EERE Blog for updates on the remaining regional contests.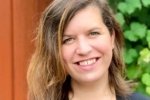 Jennifer Garson
Jennifer is the Acting Director of the Water Power Technologies Office, as well as a Senior Advisor and Acting Program Manager for Outreach, Engagement and Analysis in the Water Power Technologies Office at the U.S. Department of Energy, where she supports research and development in hydropower and marine renewable energy.
more by this author