You are here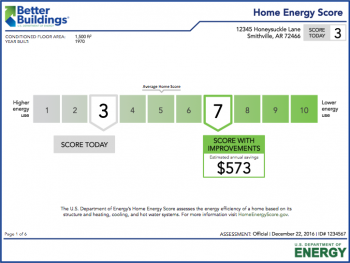 A primary concern when shopping for or comparing cars is knowing the fuel economy. What kind of performance can you expect to get out of your vehicle? How does it compare to other vehicles? What's the monthly impact on your pocketbook?
The same goes for homes because owners and renters want to know more about their home's energy performance and its expected energy use. Recognizing this need, in 2012 the Energy Department developed the Home Energy Score to help homeowners better understand their homes' energy efficiency and how to cut energy bills. Now, more than 50,000 Scores have been issued for homes across the country. Thanks to the hard work of over 420 Home Energy Score Assessors and 28 Partner organizations, the number of Home Energy Scores has nearly doubled over the past 12 months alone.
Similar to a miles-per-gallon rating for cars, the Home Energy Score provides useful information about a home's energy efficiency and how it can be improved. The Score is based on evaluation of a home's structural characteristics (insulation, conditioned floor area, windows, etc.) as well as its heating, cooling, and hot water equipment. Each Score rates a home on a scale of 1-to-10—with 10 being the most efficient and 1 being the least—and is accompanied by a detailed report outlining key facts about a home's energy use and its potential for future energy savings.
Here are the top 10 reasons so many homeowners, buyers, and renters are finding value in the Home Energy Score:  
You can obtain your Home Energy Score, alongside everything listed above, following a simple assessment that takes less than hour. To obtain a Home Energy Score, locate a partner in your state or email HomeEnergyScore@ee.doe.gov. For more information on the program, please visit betterbuildingssolutioncenter.energy.gov/home-energy-score.
Home Energy Score is a project of the Building Technologies Office within the Office of Energy Efficiency and Renewable Energy, and a partner in the Energy Department's Better Buildings Initiative.