You are here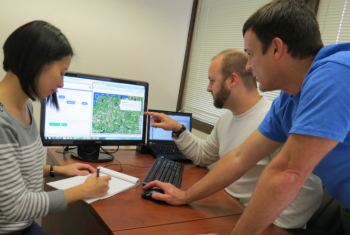 Workers from Clean Power Research review a software platform that aims to lower the costs associated with connecting distributed solar electricity generation to the grid. The platform is one of several projects funded through the Energy Department's SunShot Incubator Program, which provides early-stage assistance to help small businesses cross technological barriers to commercialization. | Photo courtesy of Clean Power Research
An idea is like a tiny seed. When planted in a creative mind and adequately fed, it takes root and flourishes. Like a seed, successfully deploying high-impact, cost-effective solar technologies requires a strong support system to facilitate its growth. 
The Energy Department's (DOE) SunShot Incubator Program provides early-stage assistance to help small businesses cross technological barriers to commercialization.  The program encourages private sector investment to maximize its impact. Since Incubator launched in 2007, $104 million in government funds has leveraged more than $1.7 billion in venture capital and private equity investment—an $18 return for every $1 of federal support.
Thanks in large part to DOE's investments and the work of its partners, rooftop solar PV panels in 2012 cost about 1% of what they did 35 years ago. Meanwhile, total U.S. solar PV deployment has skyrocketed tenfold since 2008. DOE's SunShot Initiative, through the Incubator program, is working to make solar energy even more affordable and accessible for all Americans. 
The SunShot Initiative has announced the eighth class of Incubator awardees, which include some of the solar industry's best and brightest. Their projects will focus on two key areas: advancing solar hardware technologies and reducing the non-hardware "soft costs" of solar such as installation and maintenance, which can account for more than 60% of the total cost of a rooftop solar system. This work supports SunShot's goal to help American families and businesses switch to solar electricity by making it fully cost-competitive with non-renewable forms of electricity by the end of the decade.
Key projects include:
A software platform being developed by Clean Power Research that aims to lower the costs associated with connecting distributed electricity generation to the grid. The platform will also include data visualization tools and economic metrics that help to encourage the adoption of solar electricity. The new platform is estimated to reduce soft costs by up to $800 per solar energy system.
Growing and enhancing EnergySage Marketplace's online store that helps make the process of buying and installing solar photovoltaic (PV) systems quick and simple. The platform provides choice, transparency, and information at no cost, enabling consumers to compare quotes and financing options from multiple, pre-screened solar installers.
A scalable mounting system for solar energy installations being developed by SMASHsolar. The mounting system is expected to save time, requires fewer parts, and allows the installation to be expanded over time. The project will provide a refined and easy-to-use solar product for homeowners.
Learn more about the other Incubator 8 awardees and the SunShot Initiative.