You are here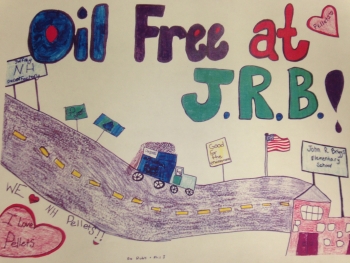 Art created by a student at John Briggs Elementary School as part of their recent Green Ceremony. John Briggs Elementary is one of the Massachusetts schools switching their heating fuel source from petroleum based fuels to wood pellets.
As students head back to school in Massachusetts, they will have an opportunity to learn firsthand about clean energy in the classroom. Several schools in the Southern Berkshire Regional District and across the state are switching to wood pellets for their primary heat source.
In 2013, the Energy Department competitively selected Massachusetts through the State Energy Program to support the state's goal of upgrading heating and cooling systems throughout the state. As a result, the state launched the Schools and Public Housing Integrating Renewables and Efficiency (SAPHIRE) program.   
SAPHIRE showcases modern renewable heating and cooling technology. The program provides educational opportunities, delivers energy cost savings, and grows a local market for renewable heating. The program reaches regional public schools that typically rely on expensive heating oil, propane, and electric heat for their heating systems. It's also designed to help schools implement projects across multiple municipalities and revenue streams.
For example, as part of SAPHIRE, with a $360,000 grant from the state's Department of Energy Resources, the district replaced oil burners at Mount Everett Regional High School and Undermountain Elementary School with a renewable, thermal-biomass system that burns wood pellets. 
Prior to the upgrade, the district purchased an average of 55,000 gallons of heating oil annually, costing approximately $200,000. The new system cuts out the cost of purchasing heating oil and will yield an estimated $46,000 in energy savings per year. It also will help reduce carbon emissions.
This spring, SAPHIRE program managers announced plans to convert two other districts' heating systems to automatic-fed, state of the art biomass pellet boilers.  These systems not only reduce the schools' heating budgets – leading to more comfortable learning environments – but also reduces the district's overall impact on climate change.
The State Energy Program provides funding and technical assistance to energy offices in states and U.S. territories to help them advance their clean energy priorities while contributing to our national energy goals.