You are here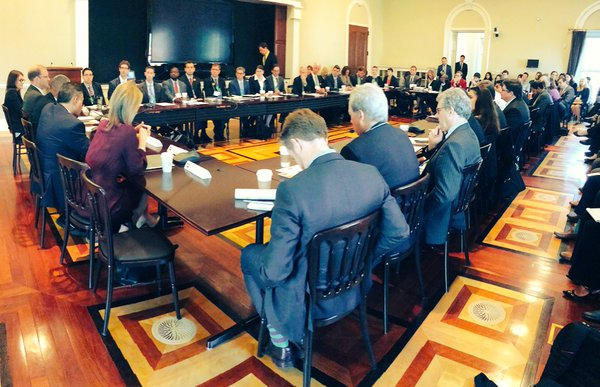 Above: the National Community Solar Partnership Workshop at the White House. Photo: Kathryn Grant, U.S. Department of Energy
Earlier this week, I met with the enthusiastic participants in the National Community Solar Partnership Workshop held at the White House.  It's a visionary group focused on finding ways to put more solar power into our communities to support consumers, businesses, and utilities, and it's a win-win-win in our fight against climate change.
The solar sector is thriving today.  We want to leverage its success to the benefit of all Americans, including low- and moderate-income families who have found solar cost-prohibitive in the past.  Since President Obama took office, the amount of solar power installed in the U.S. has increased nearly twenty fold, yet nearly 50% of homes and businesses across the country don't have access to solar-generated electricity.  Community solar breaks down the barriers to clean energy access by enabling the construction of shared solar sites – or solar gardens – and creating group purchasing agreements. 
Historically underserved communities have much to gain through increased access to clean energy.  Low-income households spend more of their income on energy than the national median; solar power could reduce their energy burden by providing stable electricity prices at or below local utility rates.
The Energy Department's SunShot Initiative – a program designed to push the cost of solar electricity down to a cost-competitive level – is committed to helping these communities gain access to solar electricity, including through community solar programs.
The SunShot Incubator program helps startup companies overcome technological barriers to commercialization of solar innovations while encouraging private-sector investment.  This bridges the gap between basic research and the marketplace, lowering the risk of investing in a promising concept and making it attractive to private capital. Since 2007, 64 companies have received 74 awards totaling $138 million in SunShot funds.  This investment has leveraged more than $3 billion in venture capital and private equity investment so far.  The technology developed as a result of these investments enables cheaper, more efficient solar energy systems that can be more easily integrated into the existing electricity grid and makes community solar viable.
In addition, our Solar Market Pathways program supports 15 SunShot projects that are advancing solar deployment across the United States. Seven of these projects are currently developing best practices and toolkits for launching community solar projects.  Making solar accessible to multi-unit housing and university campuses is part of this program, and it shows that solar is a resource that can benefit many communities.
The talented scientists in our National Labs tackle many complex problems, and we work with our partners in the private sector to make sure their innovations benefit the American people.  SunShot reflects this mission in working to make community solar achievable and bringing clean energy to all Americans.  Efforts like these will make our communities more resilient and empower all Americans to be part of our emerging clean energy economy.