You are here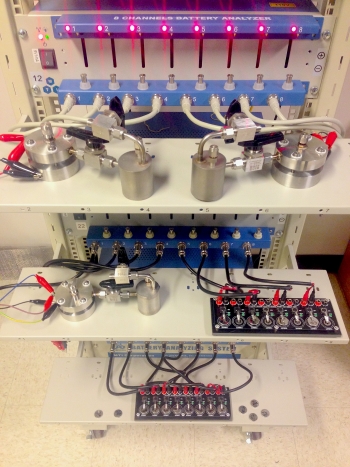 KAir Battery won the Southwest region of the Energy Department's National Clean Energy Business Plan Competition for their large-scale stationary battery. | Photo courtesy of KAir Battery
KAir Battery, a student team from Ohio State University, won the Southwest region of the Energy Department's National Clean Energy Business Plan Competition in Houston last weekend, receiving the top prize of $100,000 and advancing to the national competition.
Demonstrating their position as one of the largest student business plan competitions, 42 teams pitched their IT, energy, social, and life science start-ups over the course of the three days of the Rice Business Plan Competition.  A panel of over one hundred judges, representing experts from energy, biomedical, and finance industries, selected teams to advance to the semi-final and final rounds, culminating in a grand prize award ceremony. The award ceremony was a record-setting day for the 14-year-old Rice competition, with $2.9 million in cash and prizes distributed to the most innovative clean energy projects presented by student teams. KAir Battery took home multiple prizes, including the $100,000 Energy Department prize.
KAir Battery develops clean, energy efficient, and cost-effective large-scale stationary potassium-air (K−O2) batteries. These batteries could support renewable energy systems by storing excess power and distributing it at times of peak consumer demand. According to KAir, these batteries store generated electricity and return 98% of the input energy.
After winning the Rice Business Plan Competition, KAir Battery is invited to compete at the third annual National Clean Energy Business Plan Competition in Washington, D.C. on June 11 and 12.
The National Clean Energy Business Plan Competition aims to promote entrepreneurship in clean energy technologies that will boost American competitiveness, bring cutting-edge clean energy solutions to the market, and strengthen our economic prosperity. Previous competitors have gone on to launch 57 start-ups, create 120 jobs, and raise more than $26 million in follow-on funding.  
Check EERE Blog for updates on the remaining regional contests and learn more about the National Clean Energy Business Plan Competition.