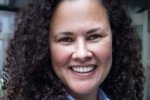 Kelly Speakes-Backman
Former Principal Deputy Assistant Secretary for Energy Efficiency & Renewable Energy
more by this author
On Earth Day, our thoughts naturally turn to the future. Whether it's the promise of cutting-edge, clean energy technologies or stories of heroic conservation efforts throughout the world, people want to take stock of our contributions to posterity. At the Office of Energy Efficiency and Renewable Energy (EERE), we believe every dollar we invest in clean energy, clean transportation, and energy efficiency will deliver strong returns for our children and grandchildren. 
To create that future, we must act now. That conviction is reflected in EERE's latest budget request. In the coming 2023 fiscal year, we're requesting roughly $4 billion to tackle the most pressing challenges in our transition to a clean energy economy. Our efforts to decarbonize America's industries, electricity system, transportation, agriculture, and buildings depend on consistent, well-reasoned allocations of funding. To that end, EERE has established four key principles to ensure our work benefits all Americans and to guide the development of our annual budget. They are: 
Energy justice. In keeping with President Biden's Justice40 Initiative, EERE will ensure that 40 percent of the benefits of its investments fall to those with the greatest need: marginalized, disadvantaged, and low-income communities that have suffered the most from pollution and our dependence on fossil fuels.
Workforce. Achieving net-zero carbon emissions by 2050 will require a massive expansion of the clean energy workforce. Working hand-in-hand with organized labor, trade associations, and educational institutions, EERE will support vocational opportunities and training programs for every industry and technology in its portfolio.
Diversity in STEM. EERE will expand its efforts to raise awareness of clean energy job opportunities at minority-serving institutions and minority professional organizations, ensuring that organizations that receive EERE funding are prioritizing diversity and equity in their work.
State and Local. State and local governments will play a critical role in the transition to a clean energy economy. EERE will strengthen its collaboration with state and local partners, empowering communities to chart their own course to net-zero emissions and provide feedback and advice on the Biden Administration's economy-wide decarbonization initiatives. 
In the coming days, EERE will release a detailed overview of its FY 2023 budget request, along with fact sheets for each of its five programmatic priorities. Be sure to visit the budget office home page to learn more.  
As we celebrate Earth Day, EERE will roll out a series of exciting announcements from the three pillars of its portfolio: renewable power, sustainable transportation, and energy efficiency. These include the selection of 20 finalists for the fifth round of the American-Made Solar Prize, the six finalists of the Solar Desalination Prize, the 15 finalists of the Algae Prize, the opening of stage two of the CABLE Conductor Manufacturing Prize, and the launch of two brand-new prize competitions. To keep pace with this flurry of announcements, be sure to keep the EERE news feed open on your browser, and follow us on Facebook, Twitter, and LinkedIn.  
To round out our Earth Day festivities, DOE and the American-Made program will host a virtual Earth Day celebration at 12:00 p.m. ET. This special event will celebrate the culture of innovation and entrepreneurship fostered by the American-Made Challenges, as well as the clean energy champions who make all our work possible. 
Any day is a good day to celebrate the wonderful planet we all share, but today I am especially proud of our work over the last 15 months, and more determined than ever to build on those successes. Happy Earth Day, one and all.