You are here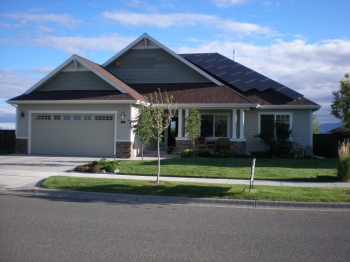 SunShot's social sciences research is helping to explore the forces behind solar adoption in the United States. | Photo courtesy of National Renewable Energy Laboratory
The cost of going solar has dropped dramatically in the last eight years, enabling a nearly 30-fold increase in solar photovoltaic power across the United States in that time. But we still need to slash costs further to achieve the SunShot Initiative goal of fully cost-competitive solar across the country.
Some of the most persistent residential solar energy costs include the significant expenses companies take on to attract and convert potential customers, as well as consumer access to affordable financing for solar systems. The SunShot Initiative is taking on these adoption barriers by funding several projects that help to increase our understanding of who goes solar and why they do it. In addition, SunShot is supporting several startup companies that are finding solutions to this knowledge gap and bringing new products to the marketplace.
Unveiling Customer Preferences
So, what makes a customer go solar? Through the SunShot Initiative's Solar Energy Evolution and Diffusion Studies (SEEDS) program, the National Renewable Energy Laboratory (NREL) examined the main barriers to and drivers of solar adoption, gathering insights on peer influence, customer conversion, and the reasons some people considered solar but didn't make the switch. They found that proximity has a huge influence on who goes solar, discovering that people who had friends or neighbors who have gone solar are more likely to adopt solar themselves.
NREL also examined the differences between solar "considerers" and "adopters." Using demographic studies, installer interviews, and surveys from adopters and non-adopters, researchers found that considerers and adopters are demographically similar, and while they do have similar motivations and concerns, considerers have more difficulty with financial resources and trouble navigating the process.
The SEEDS program also confirmed that families across the country are going solar to save on their electricity bills for years to come, confirming that going solar is largely an economic decision and not an environmental or political one. Some solar installation businesses invest millions in marketing tactics like cold calls and door-to-door sales, yet the SEEDS research helps to show that a savvy, money-saving neighbor might offer the most compelling reason to adopt solar.   
Now in its second round of funding, the new SEEDS projects that we announced yesterday will go a step further and examine how to best enable low- and moderate-income households to go solar, as well as how organizations can help drive solar adoption within their communities. These nine new awards will help to further our understanding of why and how households and organizations or even whole regions go solar, as the Energy Department works to ensure that all Americans can access the benefits of affordable solar power.
Predicting Customer Interest
In parallel with the SEEDS research, SunShot's Technology to Market funding program works with companies developing software solutions that minimize inefficient sales practices and pass the savings on to customers.
One awardee, PowerScout, has created a digital platform that leverages information—like how many people in a given neighborhood have adopted solar—to determine a person's likelihood of going solar. These predictive models help to eliminate costly marketing tactics so installers can pass these savings on to customers. The platform can also be used by energy consumers to generate savings reports and directly purchase solar systems from a PowerScout-certified installer.
Already being used by customers across 15 states, PowerScout's platform offers energy consumers upfront, compelling value with prices that can be 20% lower than prevailing market rates.
Guaranteed Savings for Consumers
Because the decision to go solar is increasingly an economic one, energy consumers who feel confident about their projected savings are more likely to adopt solar. In line with this SEEDS insight, Certain Solar is developing a new financial product for residential solar that guarantees solar savings for customers over the lifetime of their contracts.
Certain Solar uses historical energy pricing to forecast energy pricing patterns over time. This first-of-its-kind financial innovation indexes solar prices to prevailing grid prices, quantifying project risks and demonstrating guaranteed future savings for the customer.
The ripple effect of this innovative SEEDS research is helping to fuel a paradigm shift in how the solar industry tackles soft costs. Research findings have already spurred solutions that benefit solar customers and installers, showing that building foundational knowledge has far reaching benefits that can help to unlock new pathways toward achieving the SunShot goals.
Learn more about the SunShot Initiative's Technology to Market subprogram and SEEDS 2 funding program.