You are here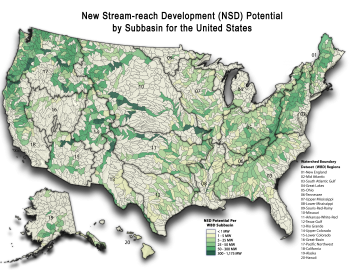 A new assessment conducted by Oak Ridge National Laboratory has identified more than 65 gigawatts of untapped hydropower potential in U.S. rivers and streams.
A new report details the potential to develop new electric power generation in waterways across the United States that could further diversify our clean energy mix and reduce our reliance on fossil fuels. The Energy Department's New Stream-reach Development (NSD) Assessment, conducted by Oak Ridge National Laboratory, has identified more than 65 gigawatts (GW) of untapped sustainable hydropower potential in U.S. rivers and streams.
The NSD assessment analyzed more than 3 million stream-reaches, making it the most detailed evaluation of new U.S. hydropower potential to date. The assessment will help energy developers, communities, and policymakers identify the most promising and sustainable opportunities to develop clean, renewable hydropower.
Researchers used new advancements in geospatial analysis to provide a first-of-its-kind look at the nation's developable hydropower potential. Several environmental, technical and socioeconomic factors are available in the assessment's data and help provide a realistic look at the potential for new hydropower development. Some of these variables included:
Endangered species;
Federally protected lands;
Water use and water quality concerns;
Fishing and boating access.
ZOOMING IN ON THE OHIO RIVER BASIN
The assessment shows large hydropower resources in a number of regions across the country, but to highlight the features of the report, we've selected the report's Ohio region as an example.  The 162,920 square-mile Ohio region encompasses parts of Ohio, Illinois, Southern Indiana, Kentucky, Pennsylvania, and West Virginia. With an undeveloped capacity of approximately 3.8 gigawatts, the region's hydropower potential is equivalent to more than 170% of its existing hydropower capacity.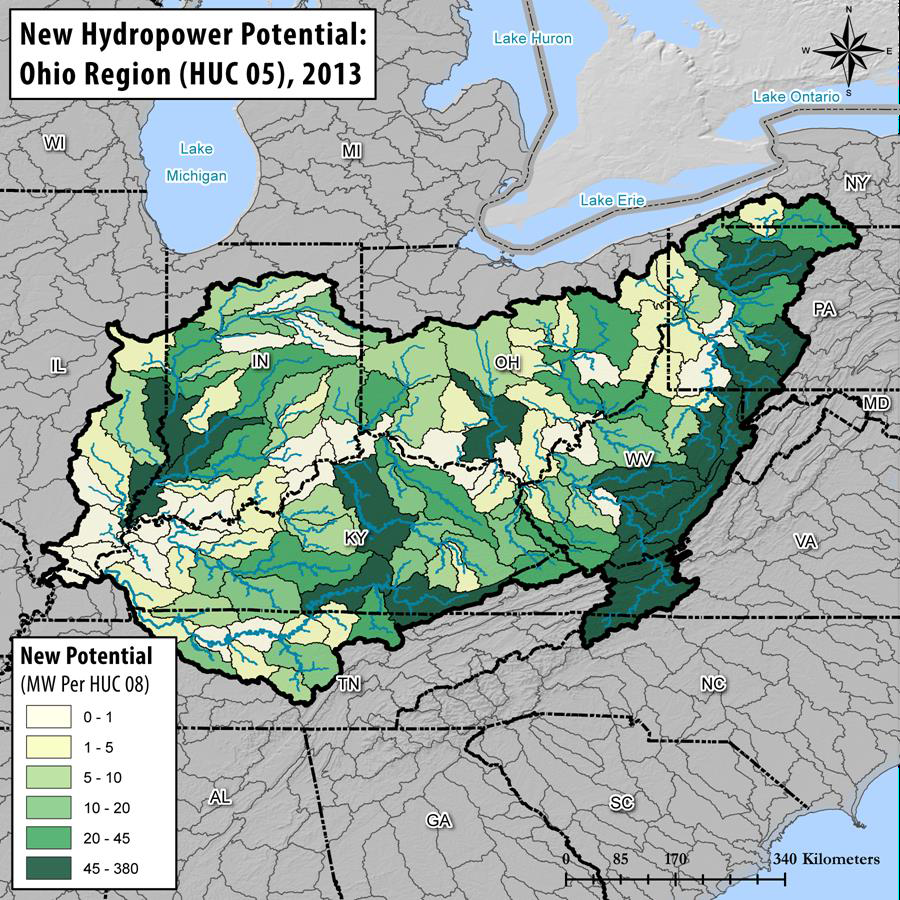 The free, online National Hydropower Asset Assessment database indicates the region is home to numerous endangered fish and wildlife species, has nearly 1,500 boat ramps, almost 800 fish access locations, 96 waterfalls, and more than 500 recreational boating river sections. Also, 2.8% of the potential hydropower resources (in stream-reaches with potential greater than one megawatt) in the Ohio region contain endangered species, while 67% of hydropower potential is located in areas commonly used for recreational boating.  The information in the database gives   hydropower developers the ability to spatially identify where environmental and recreational interests exist and make informed, environmentally, responsible decisions.
PUTTING DATA TO WORK
Hydropower is the United States' largest source of renewable electricity, allowing the country to avoid over 200 million metric tons of carbon emissions each year. The New Stream-reach Development Assessment could help industry and government responsibly develop even more of the nation's vast hydropower resources by providing important environmental and socioeconomic data critical in planning potential new projects.
Assessing and characterizing new hydropower potential is part of the Water Power Program's larger effort to help develop and deploy a portfolio of innovative technologies for clean, domestic power generation. Go to water.energy.gov for more information about the program and sign up for breaking news updates.