You are here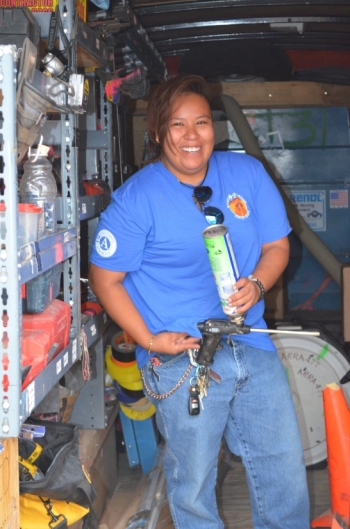 The Rocky Mountain Youth Corps' Jasmine Ramero found a new career in weatherization with help from the Energy Department.| Photo courtesy of Rocky Mountain Youth Corps
The thermometer topped out at 120 degrees in the 1700 square-foot attic, where Jasmine Ramero and her fellow Rocky Mountain Youth Corps (RMYC) members were blowing insulation as part of the Energy Department's Weatherization Assistance Program (WAP). After two hours, perseverance paid off for her and her other female colleague, as the two made their way to the next work site to start all over again. 
Two years ago, Jasmine did not know anything about weatherization, she was afraid of heights, and at the time facing personal and family hardships.  She was born and raised on Taos Pueblo, New Mexico, and attended 11 different schools during K-12 making it difficult to form lasting friendships with her peers.  Shortly after starting college in an engineering program, unfortunate circumstances led her to leave school and eventually live in her car.   "I was on a downhill spiral which I was trying to figure out how to climb," she said.
Jasmine's life changed almost instantly when she was given a flier for RMYC's Energy Efficiency Program. It had a photo of a person in a white suit performing weatherization work in a home.  The mission statement caught her eye: "A stepping-stone to new opportunities."  This was exactly what she had been looking for and needed.
In October 2013, Jasmine began training to learn essential home weatherization skills at the New Mexico EnergySmart Academy, a weatherization training center at Santa Fe Community College. The center integrates the Energy Department's standardized curriculum and is partially funded by WAP.  Jasmine earned certifications in retrofit installation, lead-safe practices, OSHA 10, First Aid, and CPR. The training helped her become an Assistant Crew Supervisor in the field.
Today, Jasmine is working toward becoming the first female weatherization quality control inspector/auditor in the State of New Mexico.  Earlier this month, she was honored by the National Corps Network as Corpsmember of the Year.
For nearly 40 years, WAP has been changing lives by providing workforce training and jobs to Americans like Jasmine and performing weatherization services for low-income families.  Whole-house retrofits have been implemented in hundreds of thousands of homes across all climate zones and housing types, offering families reprieve from hefty energy bills.
More than 30 million low-income U.S. families nationwide may be eligible for weatherization services provided by states' weatherization agencies.  Contact your state agency to locate a weatherization service provider in your area.