You are here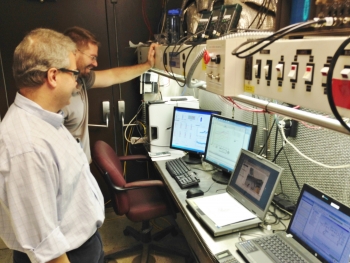 Mechanical Solutions, Inc.'s Supercharger could break open a major new market for heat pumps: cold climates. Here, MSI engineers Peter Chapman and Andrew Rogers monitor a Supercharger test in progress.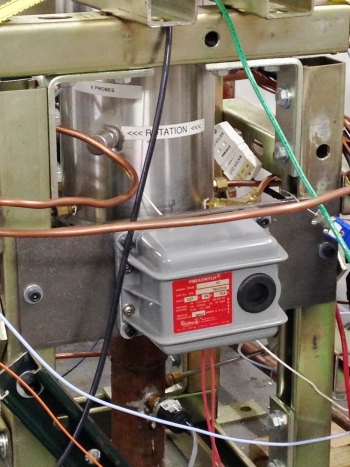 MSI's Supercharger compressor, pictured above, can be attached to a heat pump's primary compressor. The Supercharger "pre-compresses" the refrigerant before it gets to the primary compressor, allowing the heat pump to operate effectively at any temperature.
More than 97 million Americans live in cold or very cold climate regions, where heating your home is a primary concern for many months of the year. Traditionally, these homeowners—along with others across the country—have used furnaces or boilers to heat their homes, most of which are powered by natural gas. Another heating option growing in popularity is heat pumps.
Like your refrigerator, heat pumps use electricity to move heat from a cool space to a warm space, making the cool space cooler and the warm space warmer. This lets them provide both heating and cooling—at as little as a quarter of the cost of operating conventional equipment. Up until now, though, heat pumps have only been popular in more mild, Southern regions, and have failed to gain traction in cold climates. This is because, as air temperatures drop, air source heat pump performance suffers, essentially limiting heat pump year-round usefulness to warmer climates.
Working with Mechanical Solutions, Inc. (MSI), a small business in New Jersey, the Energy Department's Building Technologies Office has found a potential solution: a Supercharger that allows heat pumps to efficiently operate in the coldest U.S. climates, with zero backup heat.
The Problem with Cold Climates
Heat pumps falter in cold weather because the current compressor technology cannot withstand the strain of cooler temperatures. The cool air causes the refrigerant to get thinner; the compressor then tries to process the thinner refrigerant, but eventually the compressor either overheats or is not able to rotate fast enough to keep up. Those cold climate residents who choose heat pumps typically also use a second source for heating, like a plug-in electrical heater or propane boiler. These additions make things more complex, more expensive, and less energy efficient.
How we're Fixing It
Through a Small Business Innovation Research award, Mechanical Solutions, Inc., designed and developed a 'Supercharger' which will enable heat pumps to efficiently operate across the entire U.S. market. The Supercharger works as an add-on, or a pre-compressor, to existing heat pumps. The two technologies are connected in series, and they operate in unison—the Supercharger automatically boosts the refrigerant's pressure and temperature so that, by the time the refrigerant gets to the primary compressor, that compressor has no idea that the refrigerant originally suffered from cold weather. By pre-compressing the refrigerant, the Supercharger allows the traditional compressor to operate effectively at any temperature. The concept is similar to superchargers for piston engine aircrafts, which must maintain effectiveness with cooler temperatures and "thinner" air at high altitudes.
National Impact
This Supercharger will allow heat pumps to gain traction across a large new segment of the country. It also benefits both manufacturers and consumers—manufacturers now have access to a wider market, and don't have to change the type of refrigerant employed or the basic design of the commercial compressor used in today's marketplace. And families, now from all areas of the country, especially those where natural gas is hard to come by, will have an efficient, sole heating and cooling source for their home.
Mechanical Solutions, Inc. will complete system-level testing in 2015, at which point the technology will be available for licensing to compressor manufacturers.
This technology contributes to the Building Technologies Office's goal of reducing energy use by 50% by 2030. Learn more about our research and development activities on our website.