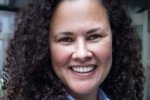 Kelly Speakes-Backman
Principal Deputy Assistant Secretary for Energy Efficiency & Renewable Energy
more by this author
As the year winds down and we prepare for long-overdue reunions with family and friends, I must admit I'm feeling a bit nervous after so many months of isolation. Like many of you, this will be my first relatively normal Thanksgiving in two years, and I'm out of practice when it comes to dinner-table banter.
I have, however, had plenty of practice extolling the merits of clean energy, energy efficiency, and economy-wide decarbonization during this past year. Shoehorning these topics into casual conversation can be a challenge (especially when it comes to dinner conversation with my mom), but it's something I'm committed to mastering. This isn't just because I love my job. Educating Americans about the extraordinary benefits they can expect from the clean-energy transition is a vital component of the Biden-Harris Administration's fight against the climate crisis.
Most people are aware of the big picture: anthropogenic climate change has created a crisis, world leaders have just convened to discuss our response, and the Biden Administration has implemented an unprecedented plan to make the United States a net-zero carbon emitter by the year 2050. These sweeping developments sometimes feel a little abstract to me. That's why I believe it's so important to emphasize the many ways in which decarbonization can materially improve people's lives. I also believe that no press release, scientific study, or public oratory can be quite as impactful as a simple conversation among friends and family.
So, this holiday season, I'll do my best to be a clean energy champion—and I invite you to join me. If you're wondering where to start, I've got a few suggestions for you.
If you manage to cram even one of these talking points into your Thanksgiving conversation, consider it a success! But even more importantly, I wish you a happy, restful, and fun-filled holiday. Our jobs here at the Department can be exhausting, but so can every job—and not all of them afford us the chance to change the world for the better, including addressing macro-scale issues like climate change. So, if you can spare a minute, help me spread the word about the tangible benefits our work can confer to every hardworking person in America.
Happy holidays!