You are here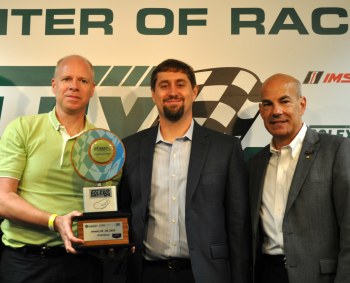 Karl Simon (from left) the Environmental Protection Agency's Director of Transportation and Climate Division for the Office of Transportation and Air Quality; Michael Carr, the Energy Department's Principal Deputy Assistant Secretary for the Office of Energy Efficiency and Renewable Energy; and Scott Atherton, President of International Motor Sports Association; pose with the Green Racing Challenge award at the Rolex 24 at Daytona event last weekend. | Photo by Natalie Committee, Energy Department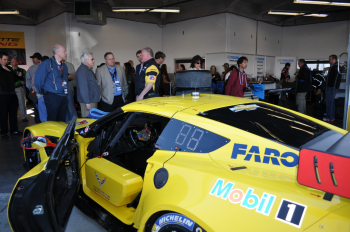 The Chevrolet Corvette GTLM car at the Rolex 24 at Daytona. The car runs on renewable cellulosic ethanol. | Photo by Natalie Committee, Energy Department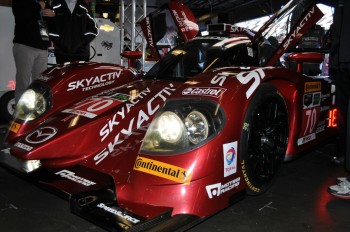 The Mazda Skyactiv prototype is equipped with a clean diesel engine. | Photo by Natalie Committee, Energy Department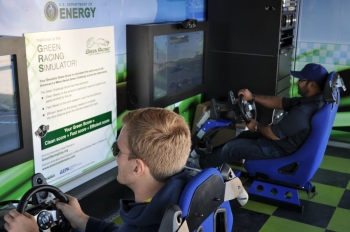 Race fans drive the Green Racing Simulator at the Rolex 24 at Daytona. The simulator was developed at Argonne National Laboratory and is now operated by Oak Ridge National Laboratory. | Photo by Natalie Committee, Energy Department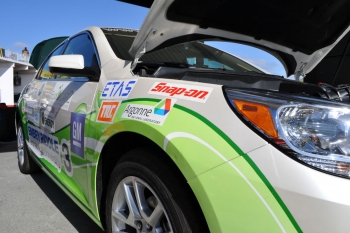 Embry Riddle University's vehicle, part of the Energy Department's EcoCAR2 student competition, on display at the Rolex 24 at Daytona | Photo by Natalie Committee, Energy Department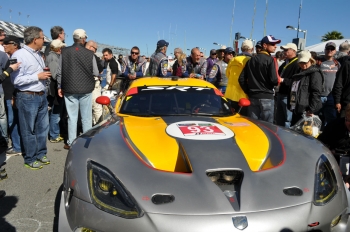 A crowd gathers around the SRT Viper GTLM car at the Rolex 24 at Daytona. | Photo by Natalie Committee, Energy Department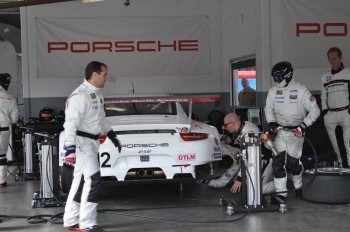 A crew works on the Porsche 911 GTLM car, which runs on cellulosic ethanol. | Photo by Natalie Committee, Energy Department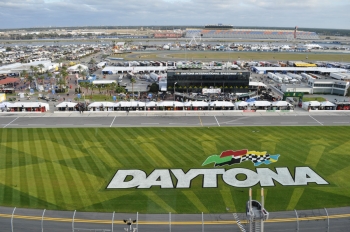 Daytona International Speedway was the site of the Rolex 24 at Daytona, the first race of this year's Green Racing season. | Photo by Lee Slezak, Energy Department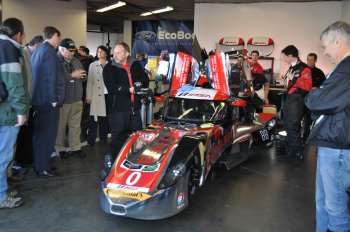 The DeltaWing prototype is about 50% lighter than most racecars and has a four-cylinder engine, which helps make it more fuel efficient. | Photo by Lee Slezak, Energy Department
A new chapter in green racing revved up this past weekend at the Rolex 24 at Daytona. The endurance race was the first race of the TUDOR United SportsCar Championship and was sanctioned by the International Motor Sports Association (IMSA). In a signing ceremony at the Daytona International Speedway, Principal Deputy Assistant Secretary for Energy Efficiency and Renewable Energy, Michael Carr, and IMSA President, Scott Atherton, announced a five-year partnership that will build on the success of the previous five years of putting advanced vehicle technologies on the racetrack through the Green Racing initiative.
Developed and sponsored by the Energy Department, the Environmental Protection Agency, SAE International (one of the nation's leading transportation engineering associations), and several automotive industry leaders, Green Racing aims to leverage the technology innovation of the racing community to develop and transfer cleaner, more efficient fuels and vehicle technologies to consumer vehicles.   
All of the teams competing in the TUDOR Championship Grand Tour Le Mans  class, which features commercially available vehicle technologies, have chosen to use E85 (fuel that is 85% ethanol and 15% gasoline). Using this alternative fuel reduces the petroleum the vehicles consume by 62% and the greenhouse gas emissions they produce by 65%, compared to the previously-used oil-based fuels.
"If racing Corvettes and Ferraris are performing well on E85, then you better believe it's good for consumers [with flexible-fuel vehicles] to use in their cars," Atherton said at Rolex 24.
At the end of this year's season, teams in the TUDOR Championship that go the farthest and the fastest with the smallest environmental footprint will win the Green Racing Challenge award. These teams will serve as a model for sustainable transportation and prove that energy efficient vehicle technologies are capable of high performance in extreme racing conditions.
Green Racing is one of many Energy Department efforts to make motorsports more sustainable. The Energy Department and NASCAR recently signed a Memorandum of Understanding to find ways to further incorporate transformative clean energy technologies into NASCAR operations.
For more on Green Racing, visit greenracingcup.org.