You are here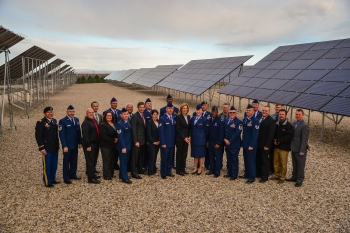 Deputy Secretary Liz Sherwood-Randall with the graduates of the Solar Ready Vets program at Hill Air Force Base, Utah. Image courtesy of the U.S. Air Force.
Last Friday, I accompanied Deputy Secretary of Energy Liz Sherwood-Randall to Hill Air Force Base (AFB) in Utah. We traveled there to attend a graduation ceremony for a class of 18 participants in the Solar Ready Vets program; this program provides on-base training for work in the solar industry to servicemen and -women transitioning from active duty to civilian status.  Having the opportunity to meet with this class of graduates at Hill AFB was particularly meaningful because it's where President Obama announced the expansion of the program just under a year ago.
When the President visited Hill AFB, he challenged the Department of Energy (DOE) to expand the program to ten total military installations across the nation.  We are not only on track to meet that goal next month, but will also have all four armed service branches represented.  To date, approximately 200 students have graduated at five bases, and thus far, all graduates of the program have received interviews with two or more solar companies. Since the solar industry is outpacing growth in the rest of the economy, DOE is helping those who served our country find a new and rewarding career in this fast-growing, dynamic field.
I had the opportunity to hear firsthand about the experiences of the graduates during a breakfast with them on the morning of their graduation.  Each service member had a different story to tell, but all shared that the hands-on training they received was of enormous benefit in preparing to transition to civilian life. 
Though veterans gain a unique and valuable set of skills through military service, translating those skills for employment in civilian life often proves challenging.  One graduate had 20 years of weapons loading experience, but couldn't imagine how he would apply that skill set to a civilian career—until he learned from a friend about the Solar Ready Vets program.  Another graduate heard about the program from his grandfather. The opportunity came at the right time; this veteran had suffered through multiple layoffs while employed in the oil industry.  A new job in the clean energy sector could provide the promise of more stability, and aligns with his interests and skill set.
New careers in our nation's clean energy economy are not just promising job opportunities, they also provide veterans with a pathway for continued service, training them to combat another threat to our nation—climate change. DOE sees this is as a win-win opportunity. Transitioning service members gain skills for a new and vital mission and employers in the solar industry benefit from a talent pool that is qualified, trained, and committed to the core values of mission first and team before self.   This is why some of the largest solar companies in the U.S. have agreed to interview everyone who completes the Solar Ready Vets program.
My visit to Hill AFB showed me the tremendous impact that a single training program can have for transitioning service members.  The best way to thank our veterans for their service is to help provide a pathway to meaningful employment once they transition to civilian status. Though we can never repay our veterans for the sacrifices they make to keep us safe, we can begin by connecting them with opportunities to continue to do what they do best—advance the security and prosperity of the American people through the work they do every day.