You are here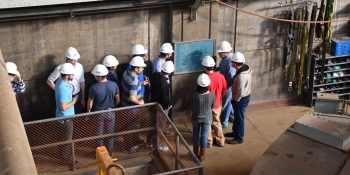 Today, utilities are directly responsible for at least 25% of the solar jobs in the United States — proving you don't have to work at a solar company to work in the solar industry.
To ensure utilities and other power sector players have a pipeline of talented students for these jobs, the SunShot Initiative created the Grid Engineering for Accelerated Renewable Energy Deployment (GEARED) program. GEARED successfully educates thousands of grid engineers and university students by directly involving utilities and industry partners in the process. Together, they developed these innovative approaches to educating our next generation of grid professionals.
A Regional Approach
The GridEd consortium, managed by the Electric Power Research Institute, takes a regional approach to addressing the needs of utilities. It brings together more than 20 utility partners, each partnering with no more than two affiliated universities, to develop course content that deals with microgrids, smart inverters, and other new technology topics specific to professionals in the power sector. Since each utility works with its regional university partner, the content developed is directly beneficial to the students seeking jobs at a utility. This gives them the knowledge they need to land a job in their geographic areas. In addition, the content is also being delivered through short courses for current grid professionals, so they stay up-to-date on the latest technology in the field.
National Approach
The FEEDER consortium, or Foundations for Engineering Education for Distributed Energy Resources, is managed by the University of Central Florida. It consists of 12 universities, 17 utility companies, 10 industry partners, and two national laboratories. FEEDER takes a broader, national approach that focuses on course-sharing, meaning a student at one university can take courses from multiple institutions throughout the consortium. Since utilities are included in the development of course content, this allows students to learn about the latest research, wherever they might be, and speeds up technology transfer for smart grid implementation.
Microgrid-Focused Training
Like FEEDER, the MARMET consortium, or Mid-America Regional Microgrid Education and Training, focuses on universities across the country, but with a different approach. MARMET, managed by Missouri University of Science and Technology, works with students, consultants, inspectors, policymakers, supervisors, and engineers. The consortium focuses on conducting research that is then integrated into microgrid education and training programs. The research efforts are centered on operational optimization, modeling and analysis, system architecture development, and hybrid distribution systems — all of which drive curriculum development through courses offered jointly between faculties at more than one university.
GEARED's administrator, the Interstate Renewable Energy Council, is seeing increased interest among utilities participating in the program. With the more than 500 courses already updated or developed at universities and training centers across the nation, utilities, companies, and universities are helping students get up to speed on the latest cutting-edge technology and preparing them for innovative jobs in the power sector.
As the power systems engineering field evolves, SunShot is looking at how the GEARED program can be even more effective. A request for information is open until March 31 that allows the public to provide feedback on a potential expansion of the program and how it would provide the most value and benefit to students, jobseekers, existing professionals, and the industry. The Department of Energy hopes this input will help make GEARED the best it can be.