You are here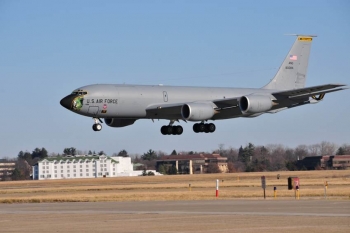 Energy consumption by the federal government has been steadily declining for nearly four decades. Much of the decline in recent years can be attributed to a decrease in the use of jet fuel at agencies like the Air Force. | Air Force photo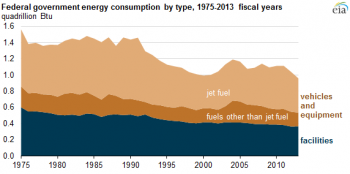 This graphic highlights how U.S. government energy consumption has been declining for almost forty years. | Energy Information Administration graphic
Recently, the Department of Energy's Energy Information Administration highlighted Federal Energy Management Program (FEMP) data illustrating the progress the federal government has made in reducing its energy use since 1975. While the U.S. federal government continues to be one of the largest energy consumers in the world, its consumption has been steadily declining for nearly four decades, and now stands at less than 1 quadrillion Btu, the lowest since 1975, when data collection began. Much of the decline in recent years can be attributed to a decrease in the use of jet fuel, the fuel most consumed by the government, by 40% and to energy used in federal facilities which has decreased by 46% since 1975. Fiscal Year 2013 is the latest available data, but preliminary data reported to FEMP by federal agencies for FY 2014 indicates that overall federal energy use continued to decline. While FEMP maintains a full suite of tools, this accomplishment is directly attributed federal employees making the choice for efficiency and striving to reduce operating costs of their sites.
Last year, FEMP launched its website of federal Comprehensive Annual Energy Data and Sustainability Performance, including FY 2013 reported findings. The site offers complete annual data sets of agency aggregated annual energy and water consumption and costs by end-use sector, efficiency investment information and progress toward key energy management goals. Responsible for tracking federal agencies' progress toward mandated goals in the areas of energy, water, and greenhouse gas reduction, FEMP also works with federal agencies to help them implement projects to achieve these goals. Some of the ways FEMP accomplishes this include:
Energy Performance Contracting: FEMP provides information and assistance on financing projects using energy savings performance contracts and utility energy service contracts. These performance contracting mechanisms allow federal agencies to save energy without spending money upfront.
Training: FEMP provides training to thousands of federal employees to foster and maintain a high-performance workforce to construct, operate, and maintain facilities in an energy-efficient, sustainable, and cost-effective manner. Topics include proven, cutting-edge technologies and business practices which lower energy use and reduce carbon pollution. FEMP training is accredited by the International Association for Continuing Education and Training (IACET) and awards participants IACET continuing education units upon successful completion of select courses.
Technical Assistance: We provide technical assistance through competitive funding solicitations and other project services. To better assist agencies, FEMP developed a Technical Assistance Request Portal where interested agencies can request FEMP technical assistance in the areas of fleet management and renewable energy.
For additional information about consumption tracking and other FEMP programs, visit FEMP's website.