You are here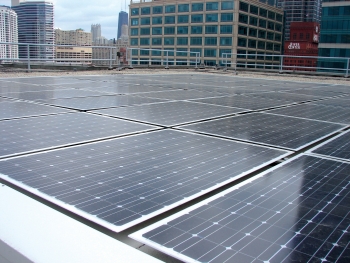 Photovoltaic panels were installed on the Harold Washington Social Security Center in Chicago as part of an Energy Savings Performance Contract.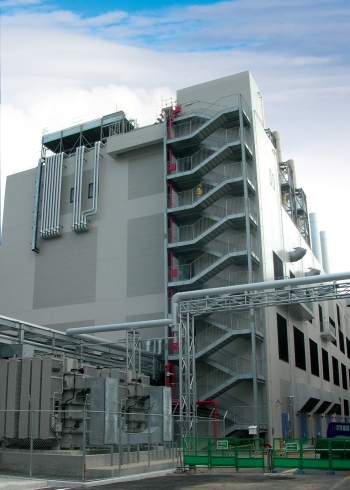 The Navy designed and constructed a state-of-the-art cogeneration plant and Commander Fleet Activities Yokosuka by leveraging a Energy Savings Performance Contract to avoid upfront capital cost. The 39-megawatt plant is dramatically reducing pollution and greenhouse gas emissions.
With more than 350,000 facilities comprising more than 3 billion square feet, the federal government is the nation's largest energy consumer. It's estimated the federal government alone spends approximately $7 billion annually on facility energy costs. Installing energy efficient measures is an important key to the federal government's bid to significantly reduce energy waste and carbon emissions.
Driving investments to improve federal building efficiency is a top priority for the Energy Department's Federal Energy Management Program (FEMP). One of the most cost effective and high-impact ways this is being achieved is through FEMP's Energy Savings Performance Contract (ESPC) program. The program is helping federal agencies stay on pace toward meeting a presidential initiative to commit to investing $4 billion in performance contracts at federal facilities by the end of 2016.
In 2011, the Presidential Performance Contracting Challenge first called for awarding $2 billion in performance-based contracts, which includes both energy savings performance contracts and utility energy service contracts. ESPCs allow for private-sector energy service companies (ESCOs) to collaborate with federal facility energy managers to identify energy saving improvements at one or more facilities, design a cost-effective project to meet agency needs, arrange for financing, and ensure that sufficient energy related cost savings are available to pay the project expenses up to a 25-year term, after which the agency accrues all cost savings. Improvements may include upgrading HVAC systems, lighting, and other building management systems, water conservation enhancements, and installing renewable energy generation technologies.
Agencies use these contracts to finance efficiency projects without any upfront congressional appropriations, a big benefit for the federal government and taxpayers. Instead, funding for projects is set up through the selected ESCO; the ESCO is then paid for services through energy and operational cost savings derived from the energy and water saving measures they installed based on the contract. The term of these contracts normally lasts an average of 17 years, and the average size of the projects is about $15 million.
The program has been an incredible success so far. As of the end of the 2014 fiscal year, agencies have awarded 160 projects valued at $1.66 billion. Federal agencies remain on track to meet the recently expanded and doubled $4 billion challenge by 2016. The expansion and extension of the challenge will further drive federal investments in energy efficiency technologies, innovation, and partnerships between the federal government and the private sector while supporting a clean energy economy and domestic job growth.
Through FEMP, the Energy Department is making great strides in deploying energy-saving assistance that has reduced energy intensity of its buildings by more than 20% over the last ten years and decreased water intensity more than 20% since 2007. By improving the efficiency of existing infrastructure and reducing energy and water intensity, ESPCs also provide opportunities to increase renewable energy production and ultimately help reduce federal agency greenhouse gas emissions.
For additional information about ESPCs including fact sheets, case studies, frequently asked questions, and more, check out FEMP's website.