You are here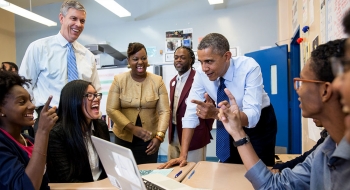 Today, President Obama is hosting the first-ever White House Demo Day, showcasing entrepreneurs who have launched innovative businesses across the country. The event will highlight a diverse set of entrepreneurs: people whose stories show why America needs to continue growing our innovation economy and make sure there's plenty of opportunity for everyone to succeed.
"[W]hen everybody is participating and given a shot, there's nothing we cannot do. … Because when we've got everybody on the field, that's when you win games." -- President Obama at Boise State University, Jan. 21
Much like this White House event, the Department of Energy's SunShot Initiative also focuses on spurring entrepreneurship across the country. Through the SunShot Catalyst program, we foster development of clean energy startup companies, accelerate soft cost reductions in the U.S. solar marketplace with prize challenges, and offer a system of support that includes leading-edge research at the Energy Department's National Labs.
The Catalyst prize has already attracted diverse talent to drive innovation in the U.S. solar industry. The first round of the Catalyst competition resulted in $30,000 awards going to five startup companies working on promising solutions to solar energy's near-term challenges. Three out of the five first-round-winning startups were founded by female entrepreneurs, in an environment where fewer than three percent of venture capital-funded companies nationwide have a woman CEO.
Achieving diversity is not just a matter of attracting talent, but also reaching untapped innovators where they work -- outside of the "innovation hubs" of San Francisco, New York City and Los Angeles. This summer, the Catalyst team has been hosting "Jamathon" events in places like Pittsburgh, Chicago, Washington D.C. and Somerville, Massachusetts, in addition to the traditional hubs.
The solar industry is one of the fastest-growing industries in the United States. Since President Obama took office, the amount of solar power installed in the U.S. has increased more than seventeen fold, from 1.2 gigawatts (GW) in 2008 to an estimated 20 GW today. As the industry continues to expand, we look forward to seeing our Catalyst prize and other SunShot-driven innovations contribute both to achieving the President's goal to "get everyone on the field" and to growing the clean energy economy in all corners of America.  
Learn more and join us at catalyst.energy.gov.