You are here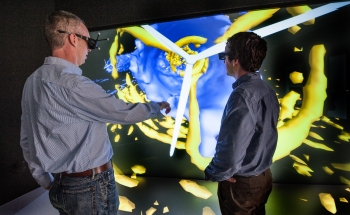 NREL Senior Engineering Project Manager, Pat Moriarty, left and NREL Senior Engineer , Paul Fleming, review velocity (blue) and turbulence (yellow) in a simulation of the Lillgrund Wind Farm in Denmark, in the Visualization Lab in the ESIF at the National Renewable Energy Lab. The researchers have written Open Source software that simulates wind farm conditions.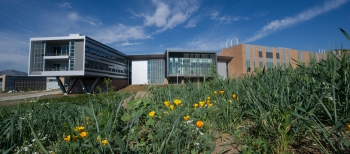 Energy Systems Integration Facility (ESIF) at the National Renewable Energy Laboratory (NREL) in Golden, Colorado. (Photo by Dennis Schroeder / NREL)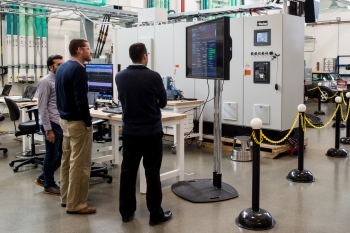 NREL and Raytheon, perform system level testing on the Miramar ZnBr Flow Battery Simulated MicroGrid, in the Energy Storage Lab (ESL) at the Energy Systems Integration Facility (ESIF) in Colorado. (Photo by Dennis Schroeder / NREL)
Energy Department Secretary Ernest Moniz officially opened the Energy Systems Integration Facility (ESIF) two years ago at the National Renewable Energy Laboratory in Golden, Colorado. The goal of this new laboratory – accelerate the research required to transform the U.S. energy system to one that is cleaner, more secure and more reliable.
In today's energy system, adding clean energy resources generally means sacrificing affordability or reliability of that system, or both.  That's where work at ESIF comes into play – ensuring the Department is doing its part to help make those sacrifices a thing of the past by finding solutions to overcome challenges of integrating renewable energy into the electrical grid.
ESIF, a one-of-a-kind facility, provides a place where industry, academia and the federal government work closely together to research, test and evaluate individual technologies before going to market, greatly reducing early market risks. Critical to moving clean energy technologies onto the electrical grid is the ability to carry out research, development, and megawatt-scale testing of the complex integrated systems and concepts of future electrical systems.
The facility's built-in megawatt-scale electricity, heating, cooling, and fueling grids provide an ideal laboratory for integrated experiments that simply aren't feasible in real-world conditions.
This interactive testing came in handy when Raytheon, Primus Power and Advanced Energy needed to determine the reliability of a microgrid powered by batteries and solar energy before installing one at a Marine Corps base in California.  ESIF also provided a test grid for SolarCity and the Hawaii Electric Company to find mutually-beneficial ways to improve market conditions for deploying solar PV (photovoltaics) on O'ahu rooftops.
ESIF is also now home to a collection of technical teams working on the Integrated Network Testbed for Energy Grid Research and Technology Experimentation (INTEGRATE) project, addressing the challenges of enabling the country's electric grid to accommodate an increasing amount of renewable energy in the most efficient ways possible.
In the two years since Moniz dedicated ESIF, approximately 50 industry partners have signed on to use the facility as a testing ground to tackle energy challenges.
Besides solar and wind research, NREL's work encompasses several vehicle studies. Scientists and industry partners can examine hydrogen and fuel cell production, storage, codes and durability.  ESIF can produce its own hydrogen, and is home to a fueling station where a hydrogen-powered vehicle can be refueled in about three minutes. NREL is evaluating the performance of a fleet of plug-in hybrid electric trucks used by Pacific Gas and Electric, and is partnering with Toyota to better understand how the company's plug-in electric vehicles could be integrated into the power grid.
ESIF also houses a petascale supercomputer, the fastest in the world dedicated to clean energy research. It supports large-scale modeling and simulation at one quadrillion operations per second. A computer operating that quickly is able to create a simulation of any environment, allowing researchers to virtually test the reliability of integrating new technologies into the grid. Using ESIF, the Technical University of Denmark is studying the plausibility of an energy system based entirely on renewable sources. The Eastern Renewable Generation Integration Study (ERGIS) used advanced computational techniques on the ESIF HPC to model the operation of the entire electric grid for the eastern U.S. with higher resolution than thought possible before.  Other HPC projects at ESIF support the applied energy mission of the Department, such as new materials for solar PV, flow fields around wind turbines, or biochemical processing of biomass to renewable fuel. 
Working towards a future powered by clean energy creates a common set of challenges for industry, government and academia. This state-of-the-art facility will enable NREL and industry to work together to develop and evaluate technolo­gies in a controlled integrated energy system platform that will accelerate the commercialization and widespread deployment of energy efficiency and renewable energy technologies.