You are here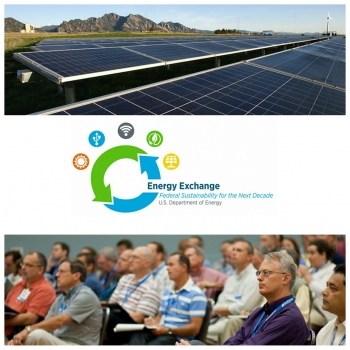 The federal government is the single largest consumer of energy in the nation with a footprint consisting of 350,000 buildings and 600,000 vehicles. With this large portfolio comes a tremendous responsibility to ensure everything is running at optimal condition. For the Energy Department's Federal Energy Management Program (FEMP), "optimal" means demonstrating and deploying the most energy efficient and cost-effective strategies for advancing clean energy technologies. Although energy consumption by federal agencies overall has dropped to its lowest level since FEMP began tracking this data in 1975, we can and need to go further.
In March, President Obama announced Executive Order "Planning for Federal Sustainability in the next Decade," which outlines the importance of reducing energy consumption, and commits federal agencies to stepping up and adopting more sustainable operations to cut greenhouse gas emissions and reduce taxpayer energy costs. Part of this includes creating an educated and engaged federal workforce to help us do that. FEMP has a key role in this, as our program serves to provide federal agencies with the information, tools, and assistance they need to meet and track their energy-related requirements and goals.
This includes training. FEMP, in collaboration with the Energy Department's Oak Ridge National Laboratory, will offer a new training event called the Energy Exchange from August 11-13 in Phoenix, Arizona. The training is geared toward civilian and military federal agencies, as well as partnering organizations that are responsible for a host of energy, water, and sustainability activities in federal building and fleet operations.
We've already invited nearly 200 speakers – leaders who represent the very best forward-thinking in government and industry. These leading energy and technology professionals are ready to share examples of successful federal agency projects and proven best practices.
Kicking off the event will be Dr. David Danielson, Assistant Secretary for Energy Efficiency and Renewable Energy. There will also be other distinguished leaders from the public and private sector.
The Energy Exchange builds on the tradition of GovEnergy, a highly regarded training event previously co-sponsored by the Energy Department that helped reduce federal government energy use. FEMP is now bringing back this valuable in-person opportunity as an extension of the content-rich, training that FEMP is recognized for. The Energy Exchange will offer 90 sessions with highly sought-after information to advance energy efficiency and clean energy technologies across the federal government. As an added incentive, continuing education units will be offered for most of the sessions from the International Association for Continuing Education and Training.
Space is limited for the Energy Exchange, so I encourage all who are interested to be sure to register.