You are here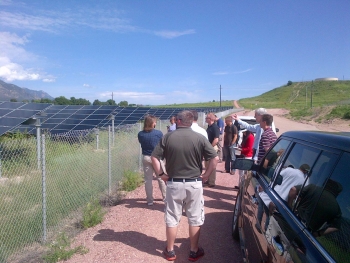 As part of the Dept. of Energy Scholars Program, veterans visited a solar array at the U.S. Army base in Fort Carson, Colorado.
Military veterans returning to the workforce possess unique skills, knowledge, and experience to help advance the federal government's clean energy initiatives. Over the summer, the Energy Department's Federal Energy Management Program (FEMP) hosted nine military veteran student interns through the DOE Scholars Program, where each participant worked closely with leaders in advancing clean energy technologies, supporting greater national energy security.
FEMP's veteran intern program is designed to provide training and educate veterans about opportunities in their post-military job search in energy efficiency and renewable energy. The goal is to provide them with an inside view of the most demanding clean energy fields and help explore career opportunities.
The program is also designed for veterans who have recently graduated or working toward bachelor's or graduate degrees.
Participating veterans were paired with federal energy managers in different agencies, including the Department of Agriculture, U.S. Department of Homeland Security, U.S. Environmental Protection Agency, and the Smithsonian Institution. As part of the program, they gained knowledge about several energy applications through day-to-day interactions with energy managers and decision makers. Project examples included drafting agency metering plans, investigating energy security issues, and developing agency renewable energy plans.
The veterans also visited the National Renewable Energy Laboratory (NREL) in Golden, Colorado, where they learned about the latest research and development of solar, wind and vehicle technologies. The tour included a stop at the National Wind Technology Center.
During their week in Colorado, the interns also toured renewable energy installments at the Fort Carson Army Base and the Air Force Academy in Colorado Springs, and a solar installment at a U.S. General Services Administration facility.  
FEMP's efforts align with other Energy Department programs designed to prepare veterans for renewable energy careers, such as partnership with the Department of Veterans Affairs, Operation Warfighter Program, and the SunShot Initiative's Solar Instructor Training Network.
Learn more about FEMP's work, which enables federal agencies to meet energy-related goals and provides energy leadership to the country.