You are here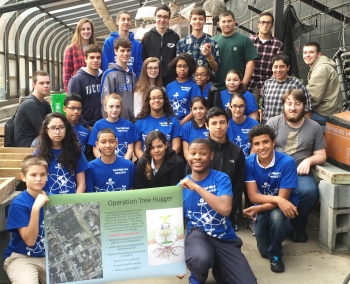 Students participating in the NEED Project at Scituate High and Calcutt Middle Schools planted 14 trees in Central Falls, Rhode Island.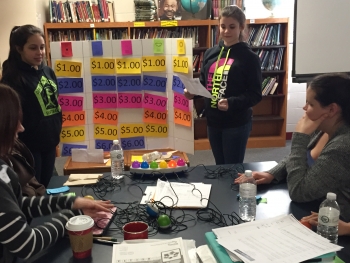 Calcutt Middle School students in Rhode Island played Energy Jeopardy! as part of their NEED Energy Carnival. The students used the NEED Project website to write questions for the game.
Energy literacy is critical to our education system. Energy is at the foundation of personal finance, national economic competiveness, and national security. As the school year begins anew across the nation, Rhode Island is at the frontier of energy education, offering a state-of-the-art curriculum in many of its schools. With the help of funds from the Energy Department's State Energy Program, the Rhode Island Office of Energy Resources continues its partnership with the nonprofit National Energy Education Development Project (NEED) to provide energy education materials to schools and organize workshops to train teachers on energy curricula.
The NEED Project's national network promotes energy education in more than 65,000 classrooms across the country. The curriculum is aligned to Common Core, Next Generation Science Standards, and the Energy Department's Energy Literacy Principles. Through this instruction, students build small generators to see electricity generation up-close, and conduct energy audits of their homes and classrooms to find energy savings opportunities.
The NEED Rhode Island program is one of its strongest. For more than 20 years, the organization has worked in Rhode Island with support from the Energy Department's State Energy Program. During the 2014-2015 school year, 45 schools in the state implemented the NEED curriculum, reaching more than 34,000 students in grades K-12. The curriculum includes topics standardized nationally and topics exclusive to Rhode Island. Students learn about Rhode Island's unique approach to renewable energy policy and energy efficiency. They also learn about energy careers in their state.
This year, the NEED Project commended six Rhode Island schools for excellence in energy education: Scituate High School, Dr. Earl F. Calcutt Middle School, A-Venture Academy, Park View Middle School, John F. Deering Middle School, and Western Coventry Elementary School.
Scituate High School science teacher Shannon Donovan described the NEED curriculum's positive impact in the classroom: "NEED's philosophy of 'kids teaching kids' is key to our success. I have been delighted over the past 11 years of my involvement with NEED to witness the confidence and skills of my students grow as they present complicated concepts to their peers and members of their community."
Calcutt Middle School science teacher Stephanie Racine added, " I am constantly incorporating the information, experiments, and curriculum that NEED offers into my science classroom.  The materials keep my students engaged and learning.  I am proud to be a NEED teacher!"
Mary Spruill, Executive Director of the NEED Project, said of her nonprofit's role in Rhode Island: "Throughout NEED's 35+ year history there have been a few states that understand that energy education is a marathon, not a sprint, and that teaching teachers, students and families about energy and energy efficiency is an investment in the long-term energy health of the state. Rhode Island's lasting recognition of the impact kids and teachers have on energy education is exciting and energizing and the people of Rhode Island will benefit for generations to come." 
With Energy Department support, schoolchildren are learning the basics of energy literacy so they can one day become environmental leaders in their own communities.
The Energy Department's State Energy Program provides funding and technical assistance to energy offices in states and U.S. territories to advance local clean energy priorities while contributing to national energy goals.