You are here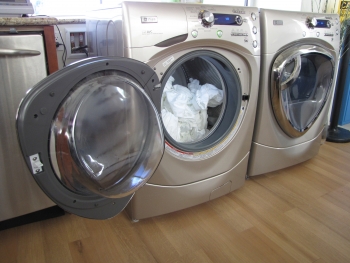 The Energy Department has adopted a new policy, changing the way it administers ENERGY STAR verification testing for appliances such as clothes washers. | Photo by Bethany Sparn, National Renewable Energy Laboratory
Each year Americans purchase more than 300 million ENERGY STAR® qualified products, whether it's major appliances, office equipment, lighting, electronics or residential heating and cooling systems. With more than 85% of U.S. consumers recognizing the blue label on these products, ENERGY STAR has become a household brand and is considered the global standard for energy-efficient consumer products to reduce energy consumption and greenhouse gas emissions.
Since it began in 1992, the joint program of the Energy Department and the Environmental Protection Agency has certified more than 5 billion energy-efficient products in the U.S., helping families and business realize an estimated savings of over $230 billion on utility bills and preventing more than 1.8 billion metric tons of greenhouse gas emissions.
The Energy Department's Building Technologies Office is responsible for developing all test procedures for products in the ENERGY STAR program to ensure the products comply with the program's performance specifications. A manufacturer seeking to use the label must have its products tested by third-party certification bodies to help maintain both consumer confidence and brand integrity.  
Today, verification testing of models has expanded to cover 60 product categories in the ENERGY STAR program and involves more than 15,000 partners across every sector, from manufacturers to trade associations, to retailers and efficiency program providers, to home builders and small businesses.
This past April, DOE adopted a new policy, significantly changing the way it administers ENERGY STAR verification testing for clothes washers, dishwashers, refrigerators, refrigerator-freezers, and freezers. Under this new policy, DOE is working closely with the Association of Home Appliance Manufactures (AHAM) to verify the ENERGY STAR performance of products participating in AHAM's verification program. AHAM is a trade association and an ENERGY STAR certification body representing both manufacturers and industry suppliers for home appliances sold throughout the U.S. and Canada.
As an EPA-approved certification body, AHAM will administer verification testing for the ENERGY STAR program, which includes verifying data and reporting on specifications. AHAM will continue to follow a series of stringent testing requirements, holding appliances that are potentially eligible for ENERGY STAR certification to the highest of standards, helping to ensure that these appliances deliver significant savings for energy efficiency and quality performance. In addition, AHAM will identify instances of potential noncompliance with ENERGY STAR requirements and federal energy conservation standards. AHAM will notify relevant government stakeholders, including the Energy Department, if an appliance is noncompliant with any program requirement, so that the appropriate agency can rectify any issues with compliance.
Prior to this agreement, DOE and AHAM operated separate verification programs for these three product types. This new partnership reduces the potential for duplicative product testing, conserving resources and taxpayer dollars, and helps the Energy Department focus on verification testing of products that are not subject to this agreement with AHAM.
This agreement is a reflection of DOE's and AHAM's extensive and long-standing collaborative work together on verification and represent the kind of creative, public-private partnership that benefits industry, consumers, and government alike.
ENERGY STAR is a joint program of the Environmental Protection Agency (EPA) and the Department of Energy (DOE). Its goal is to help consumers, businesses, and industry save money and protect the environment through the adoption of energy efficient products and practices. The ENERGY STAR label identifies top performing, cost-effective products, homes, and buildings.