You are here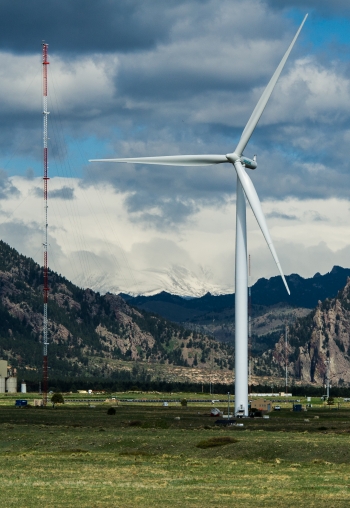 2014 proved to be a strong year for the wind industry as the United States remained a global leader in wind energy. Overall, the nation is continuing its wind installation boom, and is also putting up larger turbines that generate more wind power. Domestic wind manufacturing for large wind turbine components such as blades and towers remains strong, creating more American jobs for American workers. And the best part of all this recent growth is that the price of wind energy in the United States has fallen to record lows.
America installed 4,854 megawatts of new wind generating capacity in 2014, representing $8.3 billion in new investments across the country—enough to power an additional 1.3 million homes. In total, our nation's installed wind capacity grew to 65.9 gigawatts, roughly 8% growth from 2013. The industry also deployed progressively advanced wind turbine technology: nameplate capacity, hub height, and rotor diameter have all increased in size over time, helping improve overall efficiency and driving the price of wind energy downward.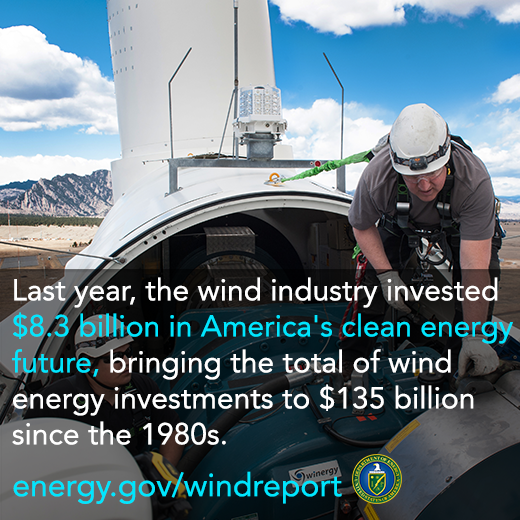 In fact, on average wind Power Purchase Agreement (PPA) prices have steadily and significantly declined since 2009. After topping out at nearly 7 cents per kilowatt-hour (kWh) in 2009, the national average PPA price has fallen to around 2.35 cents per kWh in 2014, driven by low-cost wind in the interior of the country–making wind energy competitive with wholesale electricity prices and conventionally generated power across many areas of the United States. Decades of investment in wind power research and development by the Energy Department were instrumental in driving this steady drop in prices, and those investments are now paying major dividends in terms of industry growth.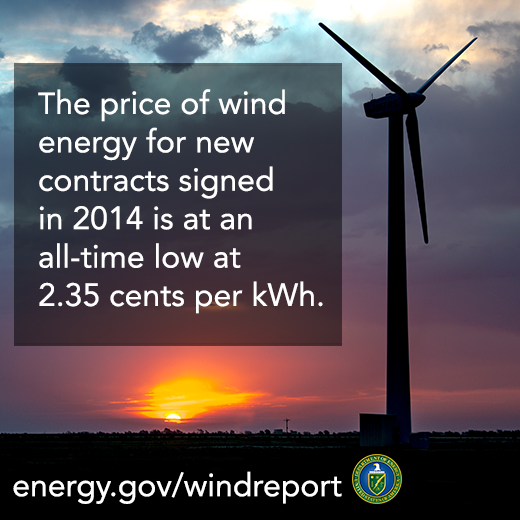 Wind power represented nearly a quarter of new U.S. electric-generating capacity additions in 2014. In total, the United States now has enough installed wind energy capacity to power more than 17.5 million homes, and many states are harnessing that capacity. Wind power provides almost 5% of total electricity used nationwide, with nine states producing more than 12% of their electricity from wind in 2014 and 17 states generating more than 6% of their power from this clean energy source.
The Midwest and the states surrounding the Great Lakes are among the windiest parts of the country–Chicago isn't nicknamed "the Windy City" for nothing! These high wind resource areas are where we're really seeing the wind deployment boom. Iowa and South Dakota supplied more than a quarter of their in-state electricity with wind power in 2014, and Kansas came in at nearly 22%. Texas remained the leading state in terms of new capacity additions and cumulative installed capacity in 2014.
With utility-scale wind energy projects now operating in 39 states and Puerto Rico, U.S. wind-sector employment increased by nearly 23,000 jobs in 2014, from 50,500 to 73,000. We are proud to say that the wind industry is growing the American clean energy economy one megawatt at a time.
Earlier this year, we published two new reports that take a comprehensive look at present and future wind energy growth. The Wind Vision Report quantifies the economic, social, and environmental benefits of a robust wind energy future through 2050. Enabling Wind Power Nationwide analyzes the potential for continued wind industry growth in all 50 states, as wind turbines with taller towers and larger rotors make wind economically viable nationwide. Based on 2014's market report and these promising insights into the future of the industry, it looks like wind power will only continue flying higher in the years to come.