You are here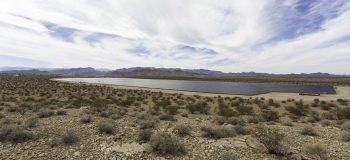 A 250-megawatt solar project on the Moapa Band of Paiute Indians' Moapa River Reservation in Nevada. This project was one of the first utility-scale solar project on tribal land.
Today, the SunShot Initiative announced $25.4 million in funding for 21 innovative projects that push the envelope of what's possible with solar energy—and feature a few focused on new software to accelerate solar deployment. The 21 SunShot Technology to Market awards include funding for both the Solar Manufacturing 4 and Incubator 11 funding programs. Seeking to tackle solar challenges through information technology, several of the new Incubator projects will develop software tools that improve project management and help to find better locations for siting commercial and utility-scale solar.
The software space is a growing market for small startups to thrive in the solar industry. These companies help to address crucial information gaps for data that solar project developers need to find a suitable location and for utilities to run interconnection studies. Finding a home for a large solar project isn't as easy as finding an available plot of land and flipping a switch. Project developers must also consider a complex set of factors, such as the proximity to transmission lines, impact on the electricity grid, project economics, and geographical concerns—all ideal challenges for software to help solve. Without adequate information, these roadblocks can quickly complicate a project, causing delays and tacking millions of dollars onto a solar project.
Here's an inside look at a few SunShot-funded software projects that are helping solar developers with system siting and interconnection, two critical steps for putting more solar on the map.
Step 1: Find a Site
Location, location, location. The old adage used to stake out a new business location also applies for finding a site for a large-scale solar project. Incubator 10 awardee, GeoCF, combines geospatial data with information about the target area to analyze the geographic constraints and suitability of a site for solar. Thanks to support from SunShot, project developers can use GeoCF's Smart Power Maps to quickly find the qualities or characteristics required or desired to build a solar project. Starting with a given area, project developers can go through a series of scenarios and simulations to evaluate everything from a site's topography and proximity to transmission lines, to property taxes and flood risk. Coupled with the platform's financing models and production forecasts, these maps can help developers rank potential projects based on diverse relevant factors.
Kevala Analytics, a new Incubator 11 awardee, will also help project developers find the best location based on project economics and nodal pricing. Nodal pricing refers to pricing an electric project based off of a specific location on the grid rather than based on the average electricity price a region carries. For utilities, it's generally a lot easier to supply electricity to dense population centers than it is to supply electricity to remote areas with a sparse population. Despite these differences, utilities typically maintain similar prices for both types of areas even though one may cost the utility more to service. Kevala Analytics' platform will give project developers insight into these differences, helping to reveal both the true price of having a project at a given location and the impact it will have on the grid. Solar developers will be able to use this transparency in grid pricing to more accurately value larger solar projects, enabling them to choose the site location that will provide the best return on investment.
The ability to instantly see a site's opportunities and pitfalls gives solar developers unprecedented insight into the future performance and cost of a project. These tools enable developers to make choices based on future value, helping them to optimize their decisions, which in turn lowers the cost of the solar project.
Step 2: Connect to the Grid
Once you find the ideal place for a solar project, the next step is to build it and connect it to the grid. Because high levels of solar can cause fluctuations on the grid, utilities use impact studies during the interconnection process to understand a project's potential effects on the grid. If a solar project would cause the power flow on the grid to exceed the capacity of the local distribution system, upgrades to the grid infrastructure will need to be financed and put in place before the project can connect to the grid.
Qado Energy, which has been supported by SunShot's Incubator program since its founding in 2012, has created a game-changing technology to help utilities and project developers add solar to the grid. The company's GridUnity platform automates the interconnection process for projects of any size, allowing users to instantly and digitally make decisions usually made by utility engineers. Because the platform can analyze complex situations and make fact-based decisions, technical screens and system impact can be resolved in as little as one day.
Already in use by Pacific Gas and Electric Company, Hawaiian Electric Company, and Southern California Edison, the software is helping these companies streamline their interconnection process and get even more solar customers connected to the grid.
Qado's new Incubator 11 award announced today will expand the GridUnity platform to be able to assess transmission impacts, helping to further drive down interconnection times for commercial and small utility projects.
With thousands of solar systems coming online each month, innovations in both grid modeling and systems siting are critical tools needed by utilities. These software innovations will help states with high concentrations of solar like California and Hawaii meet their rising demand in the near-term while also helping states plan for ambitious renewable energy targets. Without these tools, solar won't be able to meet its full potential.
Learn more about the new projects announced today.