You are here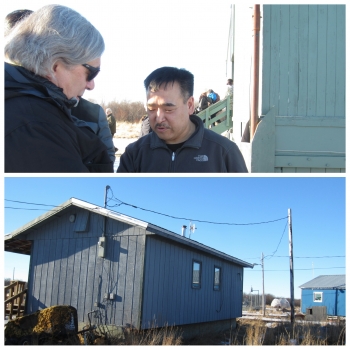 Energy Department Secretary Ernest Moniz visited Alaska this week and recognized the Community Efficiency Champions who have pledged to improve energy efficiency and lower energy costs through the Remote Alaskan Communities Energy Efficiency Competition.
Earlier this week, Secretary Moniz returned to Alaska and visited communities experiencing climate change that also have some of the highest energy costs in the nation.
As part of President Obama's commitment to fight climate change and help these communities, in September he announced the Energy Department's Remote Alaskan Communities Energy Efficiency (RACEE) Competition, a $4 million initiative intended to significantly accelerate efforts by remote Alaskan communities to adopt sustainable energy strategies.
Today, we are delighted to announce that we have reached one of our first milestones: we have designated 64 communities as Community Efficiency Champions as part of RACEE. All of the Champion communities have pledged to reduce per capita energy use by 15 percent by 2020. These Champions will gain access to a Peer Network, which is intended to empower communities with information and tools to make informed, strategic decisions regarding their energy future.
This Champion designation also allows communities to enter the next phase of RACEE and compete for technical assistance from the Department of Energy. In the final phase, communities selected for technical assistance will also be eligible to compete for funds to implement their energy efficiency strategies. The Energy Department is eager to work with these communities to find sustainable solutions to a number of unique energy challenges.
Through these pledges, we heard directly from remote Alaskan communities and Native villages about the impacts of high energy costs, which have been driven up to unsustainable levels by the limited accessibility of their remote locations. Many of these communities also face high poverty and unemployment rates, so the high costs of energy create an even more disproportionate economic burden.
These are small communities by the standards of the contiguous United States, ranging in population from 34 to 3,200 with ten villages of less than 100 people, and only five communities with more than 1,000 residents.
Over the next several weeks, these 64 Community Efficiency Champions will prepare for the next phase of the competition, where they can compete for technical assistance to prepare community energy efficiency plans. Through this technical assistance, these Champion communities will work with technical assistance providers to develop project plans for meeting or exceeding the pledged 15 percent energy reduction. This technical assistance is intended to position the selected Champion communities to successfully obtain loans or compete for funding to implement their plans.
The final phase of the competition will start this summer, when the sub-set of Community Efficiency Champions receiving technical assistance can compete for a total of up to $3.1 million to implement those energy efficiency plans developed in the second phase of the competition. This funding is expected to fund five communities in reaching their energy pledge reductions. We look forward to announcing the Community Efficiency Champions whose projects are selected for funding in October 2016.