This is part two of a four-post series celebrating National Drive Electric Week (September 15-21, 2014). The Department of Energy's Vehicle Technologies Office supports plug-in electric vehicle (PEV) development and deployment efforts through the EV Everywhere Grand Challenge, a 10-year vision to enable the U.S. to be the first nation in the world to produce PEVs that are as affordable for the average American family as today's gasoline powered vehicles by 2022.
Attuned to the needs of their communities, local governments are well-suited to tackle some of our country's most pressing challenges, including transforming our transportation system to make them cleaner, more efficient, and better suited to the needs of citizens. Many cities and counties are doing just that, by making it easier for residents to own and drive plug-in electric vehicles (PEVs). By increasing the number of PEVs on the road, these communities hope to reduce their contribution to climate change, improve local air quality, reduce residents' fuel costs, and boost economies. Whether on the coast or in America's heartland, cities and counties are leading the way towards PEV readiness.
As the home of Fiat Chrysler Automobiles, Auburn Hills, Michigan, was inspired to become a frontrunner for the use of PEVs. In 2010, the city passed an ordinance encouraging developers to make all new construction "charging ready." Instead of creating a new requirement, the city explains the benefits of being PEV-ready and requests developers voluntarily install the necessary electrical conduit. Since then, every new development has included the necessary wiring for PEV charging and several have installed charging stations as well.
The city also took its own advice, installing four PEV chargers at city buildings and three in its downtown area. But Auburn Hills wasn't content to stop there. As part of a PEV community readiness project supported by the Energy Department's Clean Cities program, Auburn Hills took a leadership role in preparing a state-wide PEV readiness plan. The city also collaborated with the Ann Arbor Clean Cities coalition to help other municipalities develop similar policies. As a result, the cities of Dearborn (home of Ford) and Warren (home of General Motors' technical center) both adopted similar ordinances. Like Auburn Hills, Warren installed charging stations in front of its city offices. 
Down south, in Austin, Texas, progress is also being made on the electric vehicle front. While the city may be known for its live music, it may soon also be known for its abundance of PEVs. Under the Central Texas Fuel Independence Project (a Clean Cities alternative fuel vehicle market readiness project), the City of Austin's utility, Austin Energy, and the Alamo Area Clean Cities Coalition have been coordinating regional PEV readiness efforts.  The Central Texas Fuel Independence Project facilitated conversations between private and municipally-owned utilities in the 10 county area surrounding Austin and San Antonio. Through this collaboration, the utilities are installing publicly available, interoperable PEV charging and instituting several common policies and standards in parallel. The adoption of uniform practices across the region will increase miles driven on electricity and help drivers seamlessly transition to the use of electric vehicles. It's expected that, by 2015, the region will have more than 400 charging stations, including a dozen installed in areas that previously never had access to charging. With support from DOE Clean Cities, Austin Energy is also working with owners of multi-family dwellings to install charging, as apartments or townhouses often lack garages where drivers can install their own home chargers. As a substantial percentage of Austin's population resides in multifamily housing, this effort will go a long way towards providing an easy, simple transition to PEVs for this demographic.
From the birthplace of the automobile to the capital of concerts, communities across the country are charged up and ready to drive PEVs with ease—thanks to Clean Cities communities' efforts.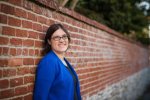 Shannon Brescher Shea
Shannon Brescher Shea (shannon.shea@science.doe.gov) is the social media manager and senior writer/editor in the Office of Science's Office of Communication and Public Affairs.
more by this author