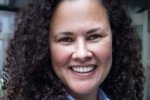 Kelly Speakes-Backman
Principal Deputy Assistant Secretary for Energy Efficiency & Renewable Energy
more by this author
Last week, I had the honor of joining President Biden and Secretary of Energy Jennifer Granholm at the National Renewable Energy Laboratory's beautiful Flatirons Campus in Arvada, Colorado. In an historic visit to the nation's premier wind energy, water power, and grid integration research facility, President Biden reiterated his commitment to solving the climate crisis through unprecedented investment in clean energy research and technologies.
I was particularly moved by the President's description of recent extreme weather events throughout the country, which only reinforce the urgency of our effort to curb the worst effects of climate change through innovation and rapid decarbonization – even as storms and lightning threatened to move their way over the event. It was particularly fitting that the President delivered these remarks in Colorado, which recently endured a series of destructive mudslides—a direct result of the 2020 Grizzly Creek fire.
Our surroundings also gave us cause for hope. At NREL, I met with the some of the smartest people on the planet, all of them fully energized and dedicated to the analysis and implementation of a carbon-free energy system.
I toured the Advanced Research on Integrated Energy Systems platform, an awe-inspiring instrument for advanced research on energy systems as large as 20 megawatts. I spoke with experts in autonomous energy systems, 3D visualization, grid-interactive efficient buildings, sustainable aviation fuel, and much more. Taken together, the technological marvels and human capital contained in just one of our 17 national laboratories left me feeling more determined than ever to carry out our mission and execute the most ambitious climate agenda in American history.
Our national labs truly are national treasures. NREL's Flatirons Campus began as the "Rocky Flats Test Station" in 1973. Since then, it's been called the National Test Center for Small Wind Energy Conversion Systems, and the DOE Wind Energy Research Center. In 1994, DOE designated the site as the National Wind Technology Center. Finally, in 2019, DOE renamed the site the Flatirons Campus to signify and its transition from a wind-only site to a campus that supports multiple renewable energy technologies. Standing with the President under the iconic Flatirons rock formation, where turbines are powered by gusts of wind that routinely top 60 mph, I was reminded of how far we've come, both as a Department and a nation.
It was a joy to see the hard work and talent of the Flatirons staff rewarded with a presidential visit. In a direct appeal to those men and women, President Biden said, "whether you're an engineer at a lab bench, or work on a turbine, at a power company, or a small construction business, everyone has a role to play." We hear you, Mr. President. We're ready to get to work.