You are here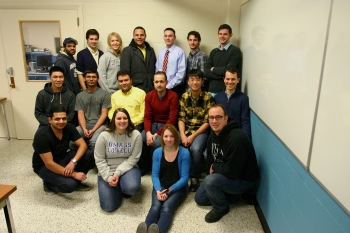 UNIVERSITY OF MASSACHUSETTS LOWELL Back row: Isaac Grulon, Dean Kennedy, Erika Sjoberg, Albert Andino, Robert Leboeuf, Gregory Lennartz, Michael Dube. Middle row: David Phung, Jigar Patel, Alexandre Sampaio, Patrick Logan, Jeffrey Chung, Peter Jones. Front row: Parth Patel, Donna DiBattista, Meaghan Riley, Michael Schaefer. Not pictured: Christopher Daly, Erik Anderson. Credit: David Willis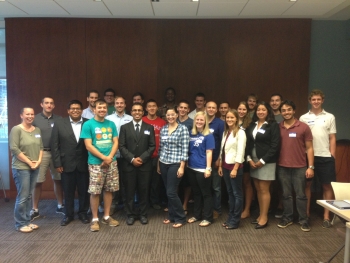 UNIVERSITY OF KANSAS First row: Katrina Legursky, Eleazar Lechino, Brandon Basgall , Sunayan Mullick, Eilish McGuinness, Mary Pat Whittaker, Cindy Dunham, Alejandra Escalera, Arnobio Morelix. Middle row: Julian McCafferty, Darwin May, Yinglong Xu, James Sellers, Luis Berges, Emily Thompson, Andrew Lichter, Ben Tumbleson. Back row: Sean Derry, Evan Iliff, Michael Zielinski, Tondi Kambarami, Mark Fletcher, Evan Reznicek. Credit: University of Kansas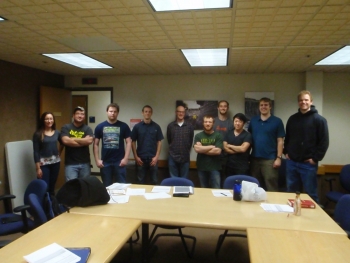 UNIVERSITY OF ALASKA FAIRBANKS From left to right: Shannan Hoyos, Ed Greene, Matthew Staley, Patrick Wade, Nick Janssen, Chic O'Dell, Pryce Brown, Bruce Lee, Wyatt Rehder, Dominic Dionne. Credit: University of Alaska Fairbanks

PENNSYLVANIA STATE UNIVERSITY Charles McDonald, Jeremy Ogorzalek, Peter Tavantowicz, Kody Veit, Brian Wallace, Michael Popp, Parth Patel, Susan Stewart, Angelina Conti, Yande Liu, Bridget Dougherty, Nicholas Ward, Danhgo Ma, Sahil Desai, Ken Palamara. Credit: Susan Stewart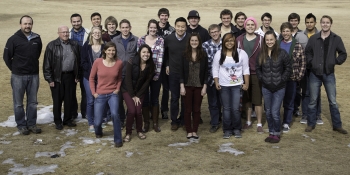 NORTHERN ARIZONA UNIVERSITY Torey Schreiner, Mariflor Caronan, Ian Mason, Andrew Hoffman, Jonathan Pepper, Carlos Tarango, Chris Feyen, Stephen Kuluris, Jared Parks, Nathan Croswell, Devon Martindale, Kyle Yates, Anna Manning, Kenny Saxer, Norman Khoo, Charles Burge, Melissa Head, Chris Bozworth, Gabriel O'Reilly, Lukas Loehr, Kelsey Morales, Ashley Jerome, Frank Spitznogle, Karin Wadsack, and David Willy. Credit: MIWhittakerPhotos
In just two weeks, 10 student teams representing colleges and universities across the country will compete in the Energy Department's first ever Collegiate Wind Competition, which is designed to prepare talented young people for careers in the wind energy industry and enable academic institutions to showcase the ingenuity of their students.  As part of the inaugural competition, teams will:
Build and test a wind turbine
Present on wind energy topics
Deliver a cohesive business plan
Each team consists of undergraduate students from multiple disciplines and includes either a faculty or staff member to serve as an advisor and principle investigator for the project, supporting development of the team's concept.  The 10 teams were competitively selected last spring. 
Today we highlight five of the 10 teams and some of their innovative designs and ideas for advancing wind energy technologies:
University of Massachusetts Lowell
This team aims to redefine the battery charging experience for consumers through a novel charging station concept that provides rapid and efficient energy transfer from a wind turbine.
University of Kansas
This team's wind turbine design utilizes additive manufacturing processes and features emergency shutdown controls and robust components to maximize product lifespan.
University of Alaska Fairbanks
This team is designing a wind-powered energy generation system for people, such as researchers and explorers, who use small devices for extended periods of time in remote field locations.
Pennsylvania State University
This team is designing and prototyping a small-scale wind turbine that can be easily deployed to support operations in emergency response situations.
Northern Arizona University
This easy-to-assemble wind turbine design aims to provide citizens and relief agencies with power during the recovery phase after a natural disaster strikes.
Check EERE Blog  and Facebook next week for profiles of the remaining five teams, join the conversation on social media using #windcompetition, and go to wind.energy.gov/windcompetition for more information.