You are here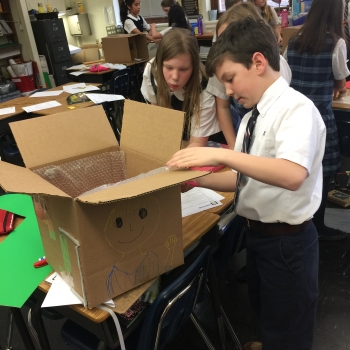 Students at St. Agnus Catholic School in Arlington, Va., measure weatherstripping to place around doors and windows
The average homeowner can save 5 to 30 percent each year on energy bills by investing in efficiency upgrades identified during a home energy audit.  Students at Saint Agnes Catholic School in Arlington, Va., recently welcomed an expert from the Energy Department's Weatherization Assistance Program (WAP) to learn how to improve a home's energy efficiency.
Lead Energy Technology Program Specialist Holly Ravesloot taught 5th-graders, who actively participate in the National Energy Education Development Project, about the importance of weatherizing homes. To begin, she started with a video developed with WAP funds called, "Grandma's House." "The video describes weatherization and how buildings are systems that have interworking parts," Ravesloot said. "It also offers classroom activities intended to familiarize elementary students with understanding and applying weatherization techniques."
After the video, Ravesloot led an interactive session on how heat and energy move through objects.
Students then had the chance to apply their new-found skills by creating their own Energy House. This project involved installing insulation, caulking, and weather-stripping into a "house" made of a cardboard box to test its energy efficiency. The project was intended to mirror typical measures taken by certified weatherization crews that use innovative technologies and energy-saving solutions to improve a home's energy efficiency.
"Additionally, the students learned how to read a thermometer and perform an energy savings calculation over 10 years," said Ravesloot.
The goal of the lesson was to promote discussions on energy efficiency in schools and prepare children to someday become energy leaders in their local communities. The hands-on work encouraged the students to practice smart energy decision making in their own homes.
Similar energy efficiency and energy educations projects are taking place elsewhere.  For instance, Florida's SunSmart Schools and Emergency Shelters Program provides participating schools with educational kits and materials on clean energy resources that can be deployed during emergency situations. Also, in Kentucky, the School Energy Managers Project is implementing energy solutions for thousands of schools across the state to learn about energy efficiency and cost-saving measures.
Incorporating energy concepts in the classroom plays a significant role in helping students and teachers make informed decisions about advancing energy efficiency efforts in homes and communities. The Department's new Energy Literacy video series of 8 videos demonstrates the 7 Energy Literacy Principles and provides an overview of energy. The series' Education Toolbox can be filtered by grade level and topic to search activities, videos and information that best suits any lesson plan.