You are here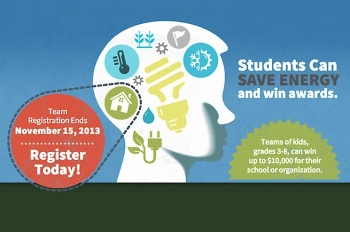 The deadline to register for the Home Energy Education Challenge is November 15.
What is the Home Energy Education Challenge?
America's Home Energy Education Challenge, or AHEEC, is a competition developed by the Energy Department (DOE) and the National Science Teachers Association designed to show students how they can save energy at home.  It teaches them simple, yet effective ways to be more energy efficient. Watch AHEEC's latest video on how the competition works!
How does the contest work?
After completing essential lessons on energy, energy usage and efficiency, interested students can begin the challenge.  Student contestants will review three consecutive months of their household utility bills, and build an energy savings plan to reduce electricity use in their homes.  After putting their plan to action, they will compare their historical electrical usage to their new, more energy-efficient practices, and will then write a story to promote energy efficiency to others.  Competing for regional and national prizes, contestants will be graded according to AHEEC's criteria.  Students without access to three months of utility bills may still compete in AHEEC's poster contest.  Prizes are awarded to general and poster contest winners.
How do I register?
The challenge is open to students in grades 3 to 8.  A teacher or educator must serve as the team leader.  Teams must be registered by November 15, 2013 so that they can complete the three month energy contest by February 2014. Final scores will be tallied and winners will be announced in the spring of 2014.  Interested students and teachers can register on homeenergychallenge.org.
Home Energy Education Challenge Key Dates

Period

Start

Finish

Registration

May 7, 2013

November 15, 2013

Challenge

September 1, 2013

March 31, 2014

Submission

September 1, 2013

March 31, 2014

Judging

April 1, 2014

April 30, 2014

Awards

May 1, 2014

May 31, 2014