Smartphone users are familiar with the prompt, "Would you like this site to use your current location?" If you're looking for somewhere to fuel your vehicle, the answer is now "Yes!" as drivers of alternative fuel vehicles with iPhones now have instant access to location-specific information through the new Alternative Fueling Station Locator app. 
The app, developed by the National Renewable Energy Laboratory for the Department of Energy's (DOE) Clean Cities program, is a mobile version of the Alternative Fueling Station Locator website.  It provides information on more than 15,000 public and private alternative fueling stations throughout the United States.  The app lists where drivers can fuel up with biodiesel (B20), natural gas (compressed and/or liquefied), electricity, ethanol (E85) and propane. 
Users first choose the type of fuel they need.  The app then automatically displays nearby stations in either a map or list view.  The app also provides important information including address, phone number, and hours of operation for each station.  The controls are simple and intuitive: tapping on the address launches the Apple Maps app, providing directions to the station; tapping the phone number calls the station.  Drivers can narrow the list down using filters, which select stations that meet certain parameters, such as whether the station is open to the public or what payment methods are available.  Some filters are fuel specific as well.  For example, a driver with an all-electric vehicle on a road trip can choose to only view charging stations with fast charging capability. 
For data geeks, the app's About section is a treasure trove of information, describing how DOE gathers, updates, and analyzes the data. The AFDC also includes a data download page that developers can use to do their own analysis or build their own applications. 
For other smartphone users, the Station Locator can still provide helpful information on the go.  The Alternative Fueling Station Locator mobile site provides the same functionality as the app but users must manually enter a location.
Whether your vehicle is all-electric or  runs on B20, the Alternative Fueling Station Locator app makes it quick and easy to find the station you need when you need it. Read more about the app or download it now. 
DOE's Clean Cities program advances the nation's economic, environmental, and energy security by supporting local actions to reduce petroleum consumption in transportation. A national network of nearly 100 Clean Cities coalitions brings together stakeholders in the public and private sectors to deploy alternative and renewable fuels, idle-reduction measures, fuel economy improvements, and emerging transportation technologies. Go cleancities.energy.gov to learn more.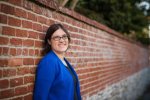 Shannon Brescher Shea
Shannon Brescher Shea (shannon.shea@science.doe.gov) is the social media manager and senior writer/editor in the Office of Science's Office of Communication and Public Affairs.
more by this author