You are here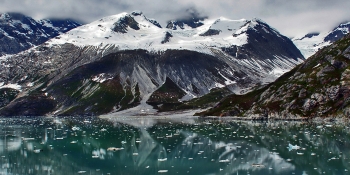 Alaska possesses great natural beauty, but also has some of the most expensive energy costs in the United States. The Energy Department is helping many Alaskan communities adopt more sustainable energy strategies to alleviate high energy costs.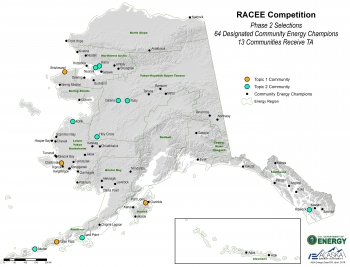 This map shows the 64 communities throughout Alaska designated as Community Efficiency Champions and 13 who are receiving technical assistance to reduce per capita energy consumption 15% by 2020.
Last September, President Obama traveled to Alaska to see the frontlines of our fight against climate change firsthand.  While he was there, he visited remote Alaskan communities, including Kotzebue and Kivalina. The lives of Kivalina's residents have been so dramatically impacted by rising sea levels and coastal erosion they have had to make the difficult decision to relocate their village. So, as the President noted, while the rest of the country is becoming more aware of climate change, these communities are already living it.
I was fortunate to visit Alaska myself with Senator Lisa Murkowski a little over a year ago in part to learn about the complex energy needs of remote areas like these in a state with abundant natural resources.  I saw just how essential Alaska is to our all of the above approach as we build or future energy mix, and one aspect of that work is finding ways to integrate energy efficiency and renewable energy into our system.  
At the Department of Energy we are doing our part to assist vulnerable communities in understanding the impacts of climate change that they face.  In fact, we are working to empower communities to address this threat through innovation.  We know that the people who are "living it" are those best positioned to find solutions.
Today marks the beginning of a third and final phase of the Remote Alaskan Communities Energy Efficiency (RACEE) Competition with the release of a funding opportunity announcement.
The Energy Department has already designated 64 remote communities and Native Alaska villages as Community Efficiency Champions, and thirteen are developing their unique plans to reduce per capita energy consumption 15% by 2020 with technical assistance under RACEE. The $4 million joint effort between DOE's Office of Indian Energy and Office of Energy Efficiency and Renewable Energy is focused on significantly accelerating efforts by remote Alaskan communities to adopt sustainable energy strategies and thereby help alleviate high energy costs.
It is terrific that our team has made swift progress with our Alaskan partners and that the 13 communities which received technical assistance to develop energy efficiency plans in the second phase of the competition are now eligible to compete for grants to implement those plans. The Alaska Energy Authority (AEA), our technical assistance partner in the state, has been working with these communities to create viable energy efficiency project plans with technical assistance that included, but was not limited to, energy use data collection, building audits, business plan development, financial feasibility assessments, engineering studies, and available funding and financing tools for implementing economic efficiency measures.
This competition gives the Energy Department an opportunity to leverage our technical expertise via AEA to help find energy-saving solutions for these remote communities and facilitate peer to peer information exchange.  We are also learning from each of these communities.  Alaskans are among the first in our country to witness the impacts of climate change at their doorstep.  And due to the limited accessibility at these remote locations, residents face some of the highest energy costs in the nation.
Many of these communities also face high poverty and unemployment rates, making the high cost of energy an even more disproportionate economic burden. There are energy efficiency lessons from these communities that can help deepen our understanding of sustainability in remote Alaska.  So RACEE also provides DOE with the opportunity to better understand the interconnected challenges of living in a changing Arctic.  We'll be able to share the models generated by the RACEE competition to replicate in other Arctic regions.
This Fall DOE will unveil up to five Community Efficiency Champions from within this group that will receive a total of $3.4 million to implement their energy efficiency projects. We look forward to seeing how these communities take their energy efficiency commitments to the next level.