You are here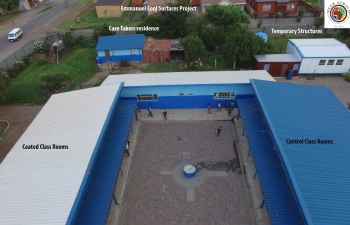 South African National Energy Development Institute's Cool Roof demonstration project at Emmanuel School. Implemented by PEER-Africa which used Milenium Solutions paint. | Photo courtesy of PEER-Africa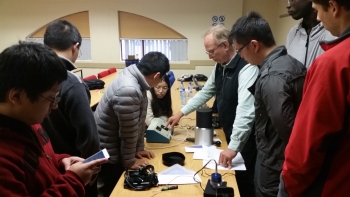 Dr. Charlie Curcija of Lawrence Berkeley National Laboratory training University of Pretoria postgraduate and laboratory personnel on cool surfaces testing. | Photo courtesy of EERE International
Bipin Shah shows Rob Sandoli, Director of EERE International, how the cool surface testing equipment, purchased with assistance from EERE, measures energy efficiency. | Photo courtesy of EERE International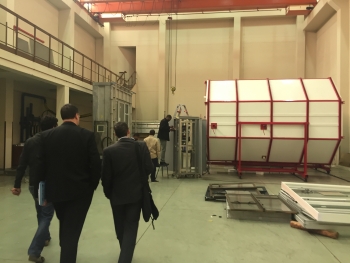 Industry and Energy Department representatives walk towards a "hotbox," a device for systematically testing the efficiency of building materials, such as windows and doors. | Photo courtesy of EERE International
This week, more than 50 African heads of state, 150 global CEOs and numerous government agencies, including the U.S. Department of Energy (DOE), are meeting in New York City at the second U.S.-Africa Business Forum, which strengthens trade and financial ties between the United States and Africa in sectors like infrastructure, power, and energy.
DOE supports a number of collaborations with African nations that share the goals of the U.S.-Africa Business Forum. One key collaboration, managed by the Office of Energy Efficiency and Renewable Energy's (EERE) International program, is the South Africa Clean Energy Project. The goal of this project is to encourage the adoption of increasingly stringent energy-efficient building codes, and to accelerate the deployment of related clean energy products.
Building codes, coupled with product labeling and testing procedures, reduce greenhouse gas emissions and establish a quality standard for industrial products used in construction. For instance, in the United States, ASHRAE Standard 90.1 is considered the benchmark for commercial building codes. In order to ensure building products, such as windows and doors, meet the code, the National Fenestration Rating Council operates a uniform national testing, rating, and labeling system for these building components.
So why does DOE collaborate with South Africa? As a major emerging economy, South Africa is an attractive destination for U.S. clean energy and building companies, and also provides significant potential for reducing global greenhouse gas emissions. According to the International Trade Administration's 2016 Top Market Report for Buildings and Sustainable Construction, U.S. exports of these products were valued at $35 billion in 2015, and expected to grow to $39 billion in 2018. South Africa is among the top 10 projected markets for high-performance construction glass. Several supply chain components of construction products, not captured in the Commerce report, present further opportunities for export. The opportunity for U.S. businesses, as well as for greenhouse gas reductions, is large if these new buildings are developed with energy efficiency in mind.
Launched in 2014, EERE International's South Africa Clean Energy Project brings together a team of experts from the United States and South Africa, including researchers from Lawrence Berkeley National Lab and the University of Florida. Together, these experts use DOE-developed software tools to analyze typical building structures in South Africa, specifically looking at the building envelope—the walls, insulation, windows, roofs and doors—to determine their energy efficiency and locate opportunities to improve. These improvements could be implemented by adopting new building component standards, testing procedures, and more efficient building codes, similar to the United States.
The project team also shared insights from the U.S. experience with product standards for building materials, especially focused on cool surfaces, with South African industry groups. Cool surfaces are designed to reflect more sunlight and absorb less heat than standard surfaces. The team supported demonstration projects at a local municipality using cool paints from Milenium Solutions, a small California-based start-up company, with components from DOW Chemical. The demonstration found that cool coatings in South Africa had the potential to reduce temperatures by 20% and reduce energy used on cooling by up to 15%. These findings were presented to the South African Cool Surfaces Association (SACSA), and in 2015, South Africa adopted five new national testing standards for cool surfaces that are closely aligned with the ASTM testing procedures we use here in the United States.
In June 2016, EERE International and the team of experts traveled to South Africa to present new analysis to the South Africa Bureau of Standards and encourage them to adopt more stringent codes for additional building envelope components. EERE co-hosted the Smart Energy Technology Conference with South Africa's Department of Energy, met with stakeholders to promote the adoption of new standards and methods for testing products, and hosted several trainings on DOE-developed software to build capacity within South African academia, government, and industry.
As new buildings are constructed and the South African economy grows, building codes and testing procedures will not only ensure energy-efficient construction, but they will also provide opportunities for U.S. companies to export materials to the region. We're off to a good start.
EERE's International Team accelerates the speed and scale of clean energy deployment through strategic international collaborations. Learn more about the office's work and the South Africa Clean Energy Project.