You are here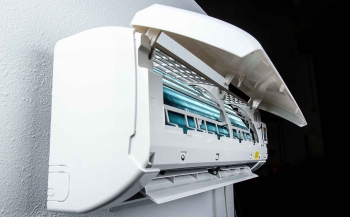 EcoSnap-AC is a simple snap-together system—with indoor and outdoor components that snap together with a connection through a wall. EcoSnap-AC provides the convenience of a room air conditioner while delivering higher efficiency, reducing noise, improving aesthetics, and eliminating air leaks and water intrusion. | Photo by Dennis Schroeder/NREL
Our office has been focused on picking up the pace of innovation to help clean energy technologies that have the potential to succeed in the market and deliver real improvements for American lives and our world. So, it was satisfying to see that when the R&D 100 Awards – also known as the "Oscars of Innovation" – were handed out, EERE's investments were recognized through several winners.
Seven EERE-supported technologies invented by our national laboratories won awards in the fields of fuel cell technologies, vehicle technologies, and building technologies.
In total, Energy Department-sponsored researchers won 32 of the 100 awards, and the Department also received a special recognition award for the most outstanding technology developments with promising commercial potential.
Congratulations to all the winners!
Here's a look at EERE's winning investments:
Vehicle Technologies
Battery Internal Short-Circuit Device
This newly-patented technology is the first mechanism able to accurately simulate a true internal short circuit within a battery cell, providing researchers with reliable data to determine how the size, resistance, and location of an internal short circuit will impact safety measures implemented in new battery designs. It was developed at the National Renewable Energy Laboratory (NREL).
Wolfspeed Wide Bandgap Automotive Traction Inverter
The inverter is the first traction drive optimized for wide bandgap devices that utilizes a commercially available silicon carbide power module. This innovation will help enable hybrid and electric vehicles to become more appealing to consumers, reducing both domestic use of fossil fuels and greenhouse gas emissions. NREL was one of several co-developers in this project, which was led by the company Wolfspeed.
Building Technologies
EcoSnap-AC Heat Pump System
This system defines a revolutionary new class of residential air conditioners that addresses all the major drawbacks of room air conditioners, while maintaining affordability. It can be installed anywhere on an exterior wall, is quieter and more energy efficient, doesn't jeopardize home security, is easy for a homeowner to install in just a few minutes, and can be left in place year-round. The new, revolutionary approach divides the heat pump into two separate yet tightly integrated parts, with one external to the home and the other on the interior. This technology, devised by researchers at NREL, benefited from the U.S. Department of Energy's Lab-Corps program, which trains national lab researchers to successfully transition their discoveries into the private sector.
Roof Savings Calculator
This web-based tool simulates energy flow and loss in businesses and homes, predicting the cost-effectiveness of cool roofing and attic technologies based on building type and location. It is designed to educate builders and consumers about the money-saving potential of roofing upgrades. The Roof Savings Calculator Suite was developed by a team of researchers from Oak Ridge National Laboratory, Jacksonville State University, and White Box Technologies.
HVAC Load Reduction Technology for Commercial Buildings
This technology uses a module integrated into existing heating, ventilation, and air conditioning (HVAC) systems to scrub the air of common indoor air contaminants. It helps reduce energy use and lower costs by recirculating already-cooled inside air. The technology was developed by the National Energy Technology Laboratory in partnership with enVerid System, which is currently working with the Building Technologies Office to install and operate this technology in multiple and diverse buildings.
The Cool Roof Time Machine
Cool roofs, as their name implies, can help keep buildings cool, lowering a building's energy use while also mitigating the urban "heat island" effect by reflecting sunlight away from buildings and cities. Researchers at Lawrence Berkeley National Laboratory developed a method for rating and prototyping cool roofing products that simulates three years of weathering and soiling in less than three days.
Fuel Cell Technologies
Porous Nano-Network Catalyst
Argonne National Laboratory's porous nano-network catalyst has a revolutionary platinum-group metals (PGM)-free catalyst design. The catalyst offers the highest possible active site density and increased charge and mass transfer. With a 20 to 25 times cost-saving in catalyst material, it is a viable replacement for expensive precious metal catalysts in fuel cell applications.