You are here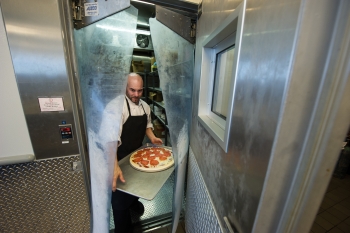 Dale Linkous carries pizza out of the walk-in freezer in the kitchen at the National Renewable Energy Laboratory in Golden, Colorado. The Energy Department announced new energy efficiency standards for commercial freezers and refrigerators. | Photo by Dennis Schroeder, National Renewable Energy Laboratory
Commercial refrigerators and freezers are critical for grocery stores, restaurants, and other businesses in the food industry.  These appliances use a lot of energy, operating around the clock to keep perishable products cold. Typical commercial refrigerators consume up to 17,000 kilowatt-hours of electricity while large commercial freezers consume up to 38,000 kilowatt-hours, resulting in high energy bills.
To help businesses save energy and money, the Energy Department today announced new standards aimed at making commercial refrigerators and freezers 30% more efficient when compared to 2009 standards. In addition to new standards, there are many ways businesses can reduce energy use of commercial refrigerators and freezers.
Here are just a few tips:
Only turn on anti-sweat heaters when ambient conditions cause condensation on the display doors. Try installing adaptive controls for these devices so they turn on and off automatically when necessary.
Check door gaskets and auto closers to make sure they are in good condition.  Warm, humid air can enter refrigeration compartments if these are not working properly, resulting in energy waste and spoiled food.  
Make sure the refrigeration system is clean and dust-free, especially the coils. This can help improve heat transfer within the system.
Make sure the refrigeration system has enough space around it to ensure good airflow over the heat exchange coils. This helps lower the amount of wasted energy.
Install motion sensors for case lighting systems. This will turn lights on and off only when needed.
Install night curtains on open cases to help keep refrigerated air from escaping when standard business hours are over.
Check out Energy Saver for more advice on how to save electricity on appliances and electronics.