You are here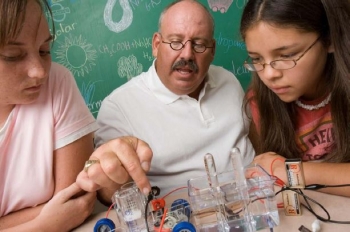 Did you know energy is everywhere? Think about it: energy is clearly a physics concept, but is that all it is? Like turning off the lights when you leave home, our everyday decisions impact energy use. Energy has played a pivotal role throughout history and will continue to shape our future. There are clear tie-ins for energy education everywhere you look, from Art and English to Science and Math, because energy is everywhere.  
As students head back to school this fall, help create energy awareness with these need to know teaching tips from the Energy Department.
1. Our planet is everyone's responsibility.
Help create citizens that are engaged around pressing energy issues. Use the Energy Literacy Framework to prompt you to think about energy across any discipline. Making connections between water conservation and energy use, for instance, can capture your child's attention. Have kids identify different sources of energy. Need help making "energy" visible? Check out these videos to bring energy topics to life: Energy Literacy video series and the Energy 101 on how renewable technologies work.
2. Students are the future.
Engaging young people – and especially girls – in science, technology, engineering, and math activities related to energy can make careers in energy an exciting prospect. Check out the Women@Energy series and #WomenInSTEM videos for profiles of inspirational women at work in our national laboratories and here at the Energy Department.
3. There's a world of good at work to change things.
Connect to the President's Climate Action Plan and the Road through Paris for a better look at global partnerships to solve our climate issues. Another resource is #ActOnClimate, and a cool resource for educators is the National Climate Assessment tool.  
4. Go the extra mile.
Keep digging. Clues about cleaning up our environment are everywhere. You can find resources from the National Oceanic and Atmospheric Administration (NOAA) www.climate.gov, for example.
NOAA Climate.gov provides science and information for a climate-smart nation. With a goal to promote public understanding of climate science and climate-related events, NOAA can help students make the connection to energy issues. Our energy production and consumption have big impacts on our climate, and Americans' health, security, and economic well-being are closely linked to climate and weather. 
5. Find real-life examples!
Stephen Portz, a public school teacher who has taught and mentored junior and senior high school students both in science and technical education, connected his school to the Maker Movement – a wellspring of innovation across America that is turning out new products. Mr. Portz' students built and programmed solar trackers using 3D printers and specialty software. The students' projects met with amazing results, realizing a 63% improvement in efficiency over the course of the day. While most solar arrays are fixed systems and do not track the sun, the students' efforts using an open-source data platform called Arduino enabled the panels to follow the sun's course to optimize energy production.
For more energy teaching tips this school year, visit the Energy Department's Education website.