Today the Energy Department and Environmental Protection Agency announced that the 2016 Fuel Economy Guide is now available. This annual publication is designed to help consumers choose the most fuel-efficient vehicles that will meet their needs. From fuel-sippers to gas-guzzlers, the Fuel Economy Guide provides consumers with essential information about model year 2016 light-duty vehicles, including their fuel economy, greenhouse gas emissions, and projected annual fuel cost.
Along with the list of 2016 models, the Fuel Economy Guide also includes "best-in-class" lists across multiple market categories. Whether a buyer is looking for a two-seater or a large pickup truck, they can find out which vehicles can save them money and fuel. This year's Top 10 lists place the Chevrolet Spark EV as the most efficient all-electric vehicle, the Chevrolet Volt as the most efficient plug-in hybrid electric vehicle, and the Toyota Prius C as the most efficient non-plug-in electric vehicle.
Building on the guide's printed version, FuelEconomy.gov provides a variety of ways for consumers to search for vehicle models back to 1984 and customize their results. The Find-and-Compare Cars database allows consumers to search by year, make, model, class, and combined miles per gallon fuel economy. Once a user has selected a vehicle, they can then derive a personalized fuel cost estimate based on local gasoline prices and personal driving habits. The website will be updated weekly with new information as manufacturers announce additional 2016 model year vehicles. 
Users can also keep track of their own personal fuel economy through the MyMPG tool or calculate the fuel cost for a road trip. Our Gas Mileage Tips can also give specific savings for driving more efficiently and keeping your car in shape.
With the 2016 Fuel Economy Guide and FuelEconomy.gov (also available as a mobile-specific website), consumers have the information to save money and fuel whether they're shopping for a new car or making the most of their current one.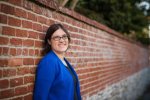 Shannon Brescher Shea
Shannon Brescher Shea (shannon.shea@science.doe.gov) is the social media manager and senior writer/editor in the Office of Science's Office of Communication and Public Affairs.
more by this author