You are here
This section contains an overview of the aggregate transportation sector, combining both passenger and freight segments of this sector. The specific energy intensity indicators for passenger and freight can be obtained from the links, passenger transportation, or freight transportation. For further detail within the transportation sector, download the appropriate Trend Data worksheet containing detailed data and graphics for specific transportation modes.
Figure T1 presents the key indexes for the aggregate transportation sector for the period between 1970 and 2011. For the transportation sector, there is virtually no difference between delivered energy and source energy because the use of electricity is so minor.
Activity: Between 1970 and 1985, aggregate transportation activity (as measured by a weighted average of passenger-miles and freight ton-miles) increased 47%. Between 1985 and 2007, this overall measure of activity increased 62%. High energy prices in 2008 and subsequent recessionary economic conditions resulted in the 2011 level of the index being below the 2007 peak level (2011 value of the activity index was about 3% lower than 2007).
Energy use: Transportation energy use increased by 28% between 1970 and 1985, and by almost 45% between 1985 and 2007. Energy use was about 4% lower in 2011 as compared to 2007.
Energy intensity index: Energy intensity over the entire period from 1970 through 2011 declined 30%. About equal percentage declines (~ 17%) were experienced in both sub-periods, 1970-1985 and 1985-2011.
Changes due to factors unrelated to efficiency improvements: The two major subsectors that make up the transportation sector are passenger movement and freight transportation. Within each of these subsectors there have been shifts between highway transport and other modes (air, rail, and water). In the passenger transportation subsector, there has been a dramatic change in the mix of vehicles, with light-duty trucks (e.g., SUVs) increasing their market share over automobiles. The net impact of these shifts in the mix of transportation modes (conventionally termed "modal shifts") has contributed to somewhat higher energy consumption. As Figure T1 indicates, the overall impact of these shifts is estimated to have increased transportation energy use by about 6% over the period from 1985 through 2011. In the earlier period, 1970-1985, the net effect from these factors was very small.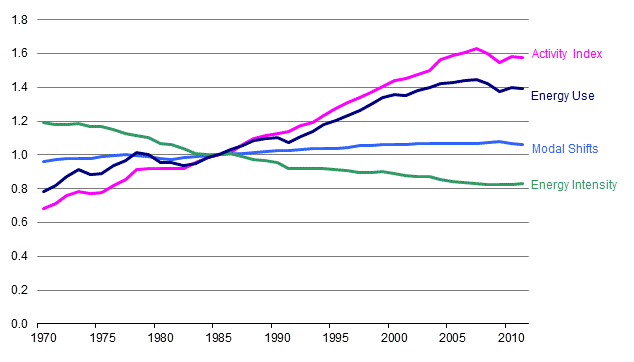 Passenger Transportation
Activity: As shown as the activity index in Figure T2, from 1970 to1985, passenger-miles traveled increased by 53%, and increased another 68% by 2007. Although recovering slightly from its 2009 low, passenger-miles travelled in 2001 were still about 1.5% lower than the 2007 peak. High fuel prices (especially in 2008) and poor economic conditions prompted declines in both highway and airline transportation activity in 2008 and 2009.
Energy use: Between 1970 and 1985, energy use increased by about 25%. In the peak transportation year (2007), fuel use was 38% greater as compared to 1985.
Energy intensity index: The energy intensity index declined by 22% between 1970 and 1985, with the largest declines coming in the wake of the 1973-1974 oil embargo. The reduction in the intensity since 1985 has been at a somewhat slower pace, with a roughly 20% decline over the past 25 years. The flattening of this decline in the last decade is largely due to a slowing in the improvement of average fuel economy (miles-per-gallon) of automobiles and light trucks.
Changes due to factors unrelated to efficiency improvements: Modal shifts in passenger transport, primarily between highway and air transportation, have reduced energy use slightly (on an energy per passenger-mile basis, air travel over the past several decades has become less energy-intensive than highway travel). However, more than offsetting this trend has been the changing mix between light trucks and passenger cars. The combination of these and other minor structural changes has contributed to about a 2% increase in overall passenger energy consumption since 1985.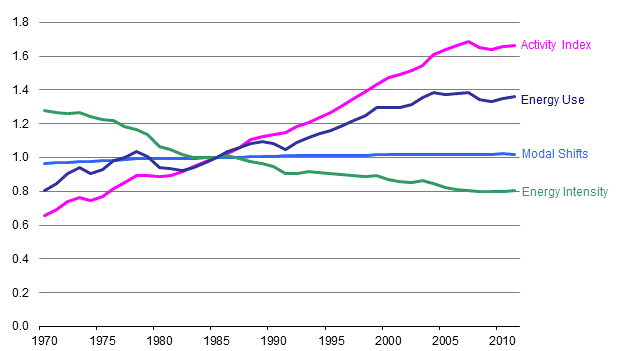 Freight Transportation
Activity: As shown in Figure T3, freight activity, measured in ton-miles transported, increased just over 30% between 1970 and 1985. Compared to 1985, total ton-miles increased by nearly 50% by 2007, the year before the onset of the recent deep economic recession.
Energy use: Energy consumption grew over 40% between 1970 and 1985, and by over 60% between 1985 and 2007. Fuel consumption was lower in the 2009-2011 time period as a result of the economic recession.
Energy intensity index: Freight transportation energy intensity was little changed between 1970 and 1985. Most of the decline after 1985 occurred over the period up to 1997. From that point forward, overall energy intensity has remained relatively constant. There was a modest decline in overall intensity between 2002 and 2003, perhaps the result of an increase in motor fuel prices, coming after several years of decline. (The temporary increase in intensity in the early 1980s comes primarily from the trucking sector; the particular economic conditions in that period — the "double dip" recession in 1980 and 1982 — is the most likely general cause for this behavior in the index during that period.)
Changes due to factors unrelated to efficiency improvements: Both modal shifts at the aggregate level (e.g., shifts between rail and truck freight) and activity increases have contributed to higher energy consumption, while intensity changes have slightly reduced energy use. Modal shifts independently account for about a 17% increase in energy consumption over period from 1985 to 2011, as a greater fraction of freight ton-miles was carried via truck (and air), as compared to water, rail, and pipelines. The decline in this factor over the last two years of the data series (2009 to 2011) is entirely the result of a decline in the share of freight carried by trucks as compared to all other modes, a distinct break from the previous trend that has been prevalent since the early 1980s.