You are here
Silica-Titania Composite (STC) Technology Safely and Cost-Effectively Removes Mercury from End-Box Exhaust in Chlor-Alkali Facilities
The chlor-alkali industry produces valuable chemicals such as chlorine, hydrogen, and caustic soda. In 2001, between 150 and 200 chlor-alkali facilities throughout the world used the mercury-cell process. Although this process uses the mercury in a closed-loop system, mercury is released to the environment through entrainment in byproduct streams, end-box ventilation systems, and fugitive emissions. An average of about 3 tons of mercury per year must be added to the production process at each mercury-cell facility in the United States to account for losses. The National Emissions Standard for Hazardous Air Pollutants (NESHAP) for mercury-cell chlor-alkali plants requires these facilities to drastically reduce mercury emissions from their gasphase exhaust streams.
With assistance from AMO, Sol-gel Solutions, LLC, has developed silicatitania composite (STC) technology for removing mercury from end-box exhaust in chlor-alkali facilities. The technology focuses on the synergistic combination of adsorption and simultaneous photocatalytic oxidation to remove pollutants. STC technology can be regenerated in place, avoiding the cost and risk of continuously replacing and disposing of typical adsorbent materials such as activated carbon. Sol-gel Solutions has installed two full-scale reactors at a U.S. chlor-alkali facility. The reactors were installed in parallel so that one could operate while the other was regenerated. After a period of successful operation, an economic analysis showed the STC technology to have a lower cost per pound of mercury removed than activated carbon. In addition to applications in the chlor-alkali industry, Sol-gel Solutions is continuing efforts to commercialize the technology for indoor air purification and the coal-fired power industry.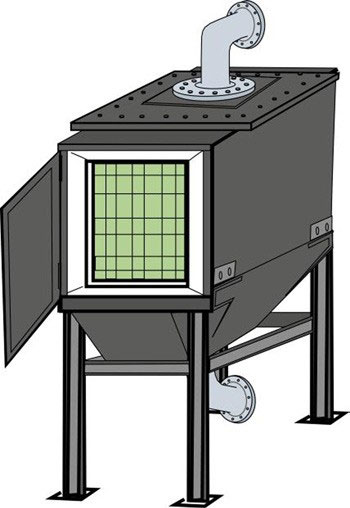 Overview
Developed at the University of Florida.
Commercialized by Sol-gel Solutions, LLC.
Two units operating at a U.S. chlor-alkali facility since 2006.
Applications
Can be used in the chlor-alkali industry for removing mercury from caustic exhaust streams and in coal-fired power plants for mercury removal from flue gas.
Capabilities
Uses ultraviolet light to oxidize elemental mercury to more stable mercuric oxide.
Benefits
Cost Savings
Reduces the cost per pound of mercury removed compared with activated carbon.
Safety
Eliminates the risk of disposing of mercury-laden activated carbon.
Contact Information
Dr. David W. Mazyck
(352) 378-4950
dmazyck@ufl.edu
Sol-gel Solutions, LLC