You are here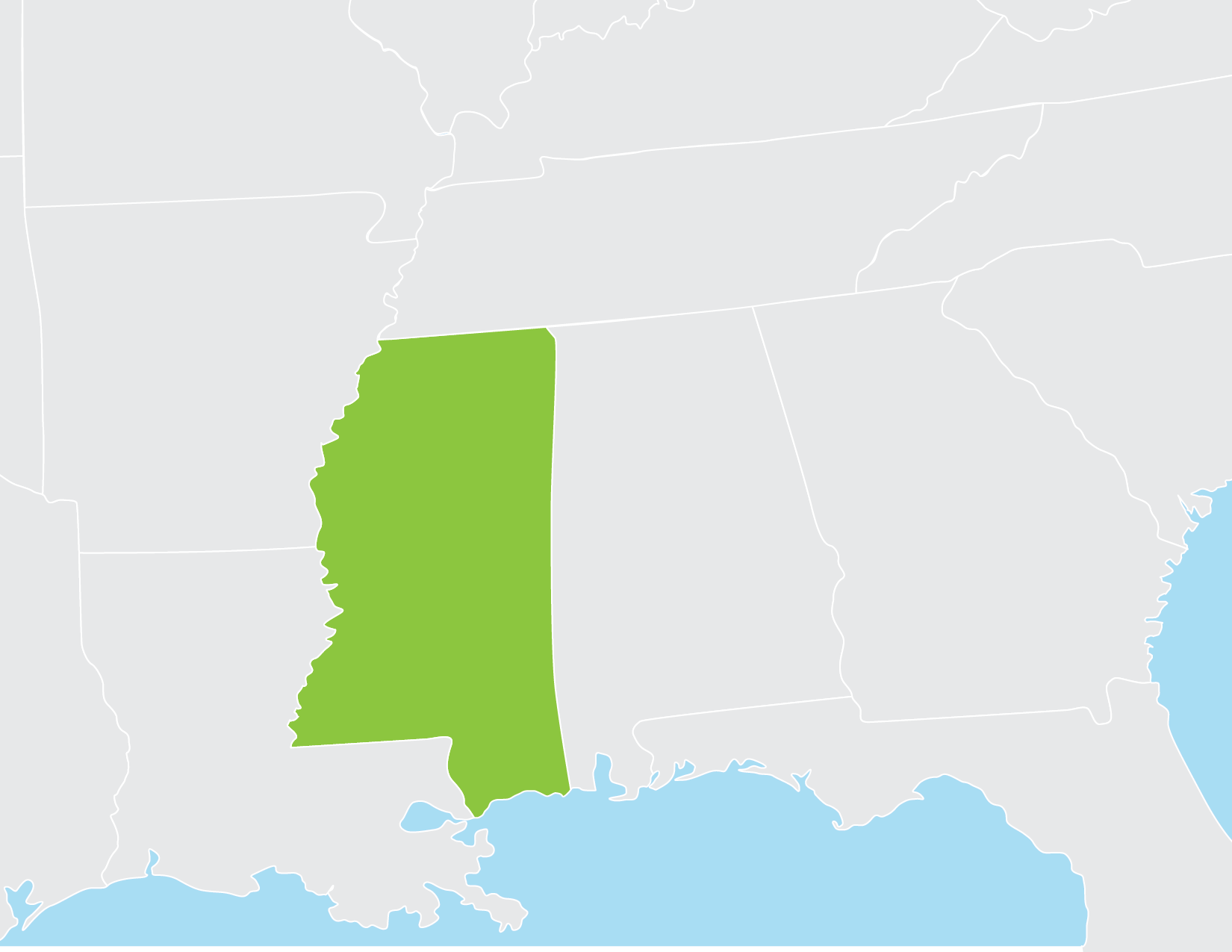 The U.S. Department of Energy's (DOE's) Advanced Manufacturing Office (AMO; formerly the Industrial Technologies Program) has developed multiple resources and a best practices suite of tools to help industrial manufacturers reduce their energy intensity. AMO adopted the Energy Policy Act of 2005 objective of reducing industrial energy intensity 2.5% annually over the next 10 years. To help achieve this goal, AMO engaged state and regional partners to help disseminate the resources and information to industrial manufacturers in their areas and, in 2009, awarded grants to 23 states and 5 regional entities to further these efforts. The Mississippi Development Authority and its project partners were awarded one of these grants for its Southeastern Center for Industrial Energy Intensity Reduction (SECIEIR) (referred to as "the Center").
The Center has a goal of reducing industrial energy intensity in the Southeastern region. With leading manufacturing industries in the Southeast United States that include petroleum and coal products manufacturing, forest products, transportation equipment manufacturing, and food manufacturing, the industrial manufacturing sector has dominated the region's energy consumption and contributes to high per-capita usage. 
The project is creating partnerships among DOE, state and local government, universities, end users, utilities, and nongovernmental organizations to reduce energy intensity by 2.5% each year of the 3-year project period regionally, or 7.5% overall. Through this Center, the project partners' efforts have focused on marketing, outreach, education, project identification and implementation, and recognition of those end-users who have achieved a significant impact.
The Center's efforts focus on nine Southeastern states: Alabama, Arkansas, Florida, Georgia, Kentucky, Mississippi, North Carolina, South Carolina, and Tennessee.
Purpose
This project included Phase I and Phase II.
In Phase I, the project developed a comprehensive marketing and outreach strategy to form effective energy efficiency programs throughout the region. In addition, the initiative set a goal to operate without direct federal support by the end of the funding periods by exploring alternative revenue streams such as sponsorships, affiliate programs, or assessment fees. 
Phase II of the SECIEIR project continued work from Phase I to address AMO's two main goals of creating partnerships through its industrial advisory board (IAB) and work to directly reducing industrial energy intensities with the Center's activities. During Phase II of the project, the IAB, composed of state energy stakeholders, has served as a nexus for exchange of experiences and ideas within an industrial energy efficiency network in the Southeast. The Center has attempted to shape its programs to enhance cooperation among Southeast Save Energy Now partners, including the Southeast Energy Efficiency Alliance, the Southeast Industrial Energy Alliance, the Industrial Assessment Centers, and State Energy Programs. The Center's core activities, including the Learning Center, Site Assessments, and Project Implementation, have directly reduced the industrial energy intensity in the region through a multitude of activities.
Accomplishments
Over the entire course of both phases of the project, it is estimated that the Center's activities contributed to a total reduction of more than 55 trillion British thermal units (Btu).
During Phase I, the project made progress in developing and training the work force to support market penetration of DOE's Qualified Specialist training program and to develop new short courses and distance learning course assets in specialized areas of concern to Southeast industries. Mississippi State University (MSU) conducted two DOE trainings: Pumping Specialist Training and Steam Tool Training. Another AMO training program was conducted on the Fundamentals of Compressed Air and Process Heating Analysis, in addition to a Survey Tool Specialist Qualification Workshop being held. The University of Florida developed three distance learning courses. Existing continuing education resources at the universities target graduating engineering students entering industry professions.
A comprehensive marketing and outreach strategy was adopted to strengthen and expand the Southeast network of contacts and resources among industry and industrial energy efficiency market support, energy efficiency technology providers, utilities, policy and regulatory groups and applied research interests. In support of these marketing and outreach efforts, MSU partnered with the Mississippi Energy Coordinators Association to provide a half-day seminar on the Save Energy Now Project at the state-level conference held in September 2010. The Save Energy Now Southeast Partners Workshop was held in Atlanta, Georgia, in March 2011 to coordinate efforts in communications, branding, calendaring, and referrals. Involved in this meeting were key leaders of other state Save Energy Now-funded projects in the Southeast. 
The program also delivered technical assistance, and custom energy efficiency assessments in support of the expansion of Energy Savings Assessments (ESAs) and IAC activities. Through this program 35 assessments were completed in Phase I, utilizing the expertise of DOE energy auditors, and the IACs at MSU, North Carolina State University, and the University of Florida. 
The Center also provided approximately 80 hours of technical assistance to various businesses, energy interest groups, and governmental organizations and participated in many regional events to discuss the important role of industrial energy efficiency in planning for the Southeast's energy future. These assessments and the technical assistance identified potential opportunities to save energy to the benefit of companies in the defense contracting, furniture, graphics, light manufacturing, phosphate, plastics, and steel industries.
In Phase II, the Center continued performing Industrial Assessment Center assessments, completing another 21 assessments at commercial/industrial facilities during this second phase. Eleven of these facilities indicated they have already implemented recommendations from the assessments.
The Center also held two trainings: a Pumping System Assessment Tool Training in Atlanta, Georgia, and a Compressed Air Training in Gainesville, Florida.
The Center participated in eight state-level conferences. These included attending and presenting at various meetings and discussions with local partners and agencies and focusing on collaborations in the area of energy efficiency improvement and industrial energy intensity reduction.
The Center also worked with the Industrial Efficiency Network to hold a Nashville workshop on industrial energy efficiency and combined heat and power (CHP) in the Southeast. Approximately 40 representatives attended from industry, utilities, and other stakeholder groups to discuss achievements and opportunities.
During Phase II, the Center also developed three educational courses: The first course is on refrigeration engineering and was developed in conjunction with Kansas State University. It is yet to be offered to a live audience. The second course was offered beginning in January 2014 and is entitled, "Optimizing Performance in the Built Environment." It will serve as an introduction to green building rating systems, with a focus on the U.S. Green Building Council (USGBC) accreditation Leadership in Energy and Environmental Design (LEED™). The third course was developed in conjunction with the University of Wisconsin's Department of Engineering Professional Development and is entitled, "Testing, Adjusting, and Balancing." This course is yet to be scheduled.
Program Highlights
| Program Activity | Number Completed |
| --- | --- |
| IAC Assessments | 56 |
| Trainings | 9 |
| Regional Workshops | 2 |
| State Level Conferences | 8 |
| ESA Identification | 3 |
Project Mission
To create partnerships through its industrial advisory board and work to directly reduce industrial energy intensities with the Center's activities.
 
Project Funding
| | | |
| --- | --- | --- |
| Funding Source | U.S. Department of Energy, Advanced Manufacturing Office | American Recovery and Reinvestment Act of 2009 |
| Funding Amount | $516,742 | $349,829 |
| Project Period | 5/1/2011 to 9/30/2013 | 9/30/2009 to 9/30/2011 |
 
Project Benefits
Decreased industrial energy intensity in the Southeast.
Improve collaboration between industrial organizations and agencies throughout the Southeast.
Establishes a self-sustaining center that will continue its work well into the future.
Primary Investigators
Mississippi Development Authority, Jackson, Mississippi
Mississippi State University, Mississippi State, Mississippi
North Carolina State University, Raleigh, North Carolina
University of Florida, Gainesville, Florida
Project Award Partners
Florida Power and Light Company, Miami, Florida
GreenCo Solutions, Inc., Raleigh, North Carolina
Kentucky Division of Energy Efficiency and Conservation, Department for Energy Development and Independence, Frankfort, Kentucky
MARSPEC Technical Products, Mobile, Alabama
North Carolina Sustainable Energy Association, Raleigh, North Carolina
Piedmont Natural Gas, Charlotte, North Carolina
Progress Energy, Raleigh, North Carolina
Resinall Corporation, Stamford, Connecticut
SIEMENS, Morrisville, North Carolina
Southeast CHP Application Center, Mississippi State, Mississippi
Tennessee Valley Authority, Chattanooga, Tennessee
Contacts
Dr. Motice Bruce
Mississippi Development Authority
Phone: 601-359-6601
Email: mbruce@mississippi.org
Jamey Evans
U.S. Department of Energy
Advanced Manufacturing Office
Phone: 720-356-1536
Email: jamey.evans@go.doe.gov
Sandy Glatt
U.S. Department of Energy
Advanced Manufacturing Office
Phone: 720-356-1544
Email: sandy.glatt@go.doe.gov
Last Updated: January 2015