You are here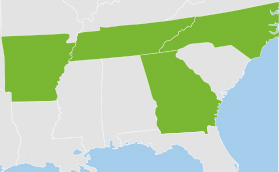 Energy efficiency is a priority for the Southeast states of Arkansas, Georgia, North Carolina, Tennessee, and Virginia, whose manufacturers are among the country's largest industrial consumers of energy. In 2009, the United States Department of Energy's (DOE's) Advanced Manufacturing Office (AMO; formerly the Industrial Technologies Program) awarded funding to 23 state and 5 regional entities to further industrial energy efficiency efforts around the country. Improving the energy efficiency of the manufacturing plants in the Southeast will help to reduce their carbon footprints and improve their competitiveness by reducing energy costs.
Led by the Georgia Environmental Finance Authority, the Southeast team's multifaceted approach to helping reduce industrial energy intensity in the region consisted of conducting energy assessments to teach manufactures how to identify energy-saving opportunities and hosting end-user and Qualified Specialist trainings to give them the skills to use DOE software tools to identify system-specific opportunities.  In addition, the team participated in the pilot program to implement the Superior Energy Performance (SEP) energy efficiency standard for Southeastern manufacturing plants as well as  technology demonstrations to show other plants how to implement energy management systems and see energy efficient technologies that work. Finally, the team implemented a marketing and outreach strategy to engage manufacturers in their program and disseminate results so that these results could be replicated. The team's approach also involved an education component, which ensures that energy assessment or training participants obtained the skills to implement their knowledge far into the future.
Purpose
Though centered in Georgia, the project focused on energy efficiency initiatives in all five participating southeastern states. Together, these formed the Southeast Industrial Energy Alliance (SIEA), which worked to improve energy efficiency in the local industry. During the project period, SIEA focused on five main tasks to incentivize improvements in energy performance:
Performing complimentary energy assessments for local manufacturing facilities designed to help employees understand how to identify energy-saving opportunities.
Enrolling six industrial facilities in the SEP pilot program, which aims to increase energy efficiency in American manufacturing facilities.
Establishing local training centers to facilitate partnerships with other organizations focused on energy efficiency.
Designing demonstrations on new industrial technology intended to help users save energy.
Creating an outreach program that helps spread information and recognize organizational achievements.
Accomplishments
Many of the activities completed by SIEA focused heavily on outreach and training with the hope that participating entities would be able to use the information beyond the project period.
Out of the six industrial facilities participating in the SEP pilot period, four were able to achieve certification by the end of the funding period, including both the Bridgestone plant in Wilson, North Carolina, and the Volvo plant in Dublin, Virginia. The Bridgestone plant became the first plant certified under the long-term mature energy track. The Volvo plant achieved an overall 25.8% decrease in energy use, the highest of any enrolled facility thus far. Georgia Tech continues to provide support that takes the form of individualized training sessions and webinars to all enrolled facilities and anticipates that the remaining two plants will also achieve certification.
In addition to training sessions related to SEP, SEIA conducted more than 10 different targeted energy assessments for local companies based on the American Society for Mechanical Engineering (ASME) standards. These assessments focus on a specific part of the manufacturing process such as compressed air delivery or pumping systems. Companies participating in assessments also received extra support via email, phone, and printed material. This support ranged from specific instruction on how to improve a specific factory's production system to general advice for implementing broad energy standards such as ISO 50001.
The regional training centers also provided workshops with assistance from local area universities and other energy-efficiency-focused organizations. The centers trained people who were not affiliated with companies already working with SIEA. This effort helped extend the reach of the program as a whole. In total, training sessions had 100–150 participants per state. Multiple state employees also gained certification as different types of energy practitioners, and they will be able to continue training efforts in the future.
Additional outreach efforts were also produced as part of the program, including conference presentations and videos highlighting achievements of some of the plants involved in SEP certification.
Program Highlights
| Program Activity | Goal | Number Completed |
| --- | --- | --- |
| Energy Assessments | 9 | 16 |
| Energy Specialists Trained | 4 | 5 |
| Regional Training Workshops | - | 20 |
Project Mission
To increase energy efficiency among industrial plants in the Southeast United States by facilitating regional training events and assisting with participation in federal energy management programs.
 
Project Funding
| | | |
| --- | --- | --- |
| Funding Source | U.S. Department of Energy, Andvanced Manufacturing Office | American Recovery and Reinvesment Act of 2009 |
| Funding Amount | $688,504 | $500,000 |
| Project Period | 11/1/2009 to 10/31/2012 | 9/30/2009 to 3/31/2012 |
 
Project Benefits
Arkansas: Used information gained from SEP certification to provide several outside training sessions and create training centers and academic partnerships.
Georgia: Helped coordinate activities in other four states while also conducting local training and outreach sessions.
North Carolina: Training activities reach more than 250 interested participants.
Tennessee: Three state contractors were trained and certified as energy practitioners.
Virginia: Plant participating in Save Energy Now reduces energy use by more than 25%.
Primary Investigator
Georgia Environmental Facilities Authority, Atlanta, Georgia
Project Partners
Arkansas Economic Development Commission, Little Rock, Arkansas
BCS, Incorporated, Laurel, Maryland
Georgia Tech Enterprise Innovation Institute, Atlanta, Georgia
North Carolina State University Industrial Extension Service (NCSU IES), Raleigh, North Carolina
Oak Ridge National Laboratory, Oak Ridge, Tennessee
Southeast Energy Efficiency Alliance, Atlanta, Georgia
Tennessee Department of Economic and Community Development, Nashville, Tennessee
Tennessee State Energy Division, Nashville, Tennessee
Virginia Department of Mines, Minerals and Energy, Richmond, Virginia
Contact
Tracy Williams
Georgia Environmental Finance Authority
233 Peachtree Street
Harris Tower, Suite 900
Atlanta, GA 30303
Phone: 404-584-1000
E-mail: tracy@gefa.ga.gov
Jamey Evans
U.S. Department of Energy
Advanced Manufacturing Office
Phone: 720-356-1536
Email: jamey.evans@ee.doe.gov
Sandy Glatt
U.S. Department of Energy
Advanced Manufacturing Office
Phone: 720-356-1544
Email: sandy.glatt@ee.doe.gov
Last Updated: May 2014