You are here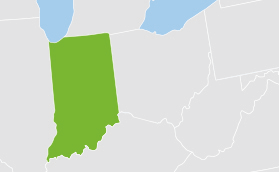 The U.S. Department of Energy's (DOE's) Advanced Manufacturing Office (AMO; formerly the Industrial Technologies Program) has developed multiple resources and a best practices suite of tools to help industrial manufacturers reduce their energy intensity. AMO adopted the Energy Policy Act of 2005 objective of reducing industrial energy intensity 2.5% annually over the next 10 years. To help achieve this goal, AMO engaged state and regional partners to help disseminate the resources and information to industrial manufacturers in their areas and, in 2009, awarded grants to 23 states and 5 regional entities to further these efforts. The state of Indiana was awarded one of these grants for its
Save Energy Now
Indiana program.
In 2008, Indiana ranked fifth in the nation for industrial energy consumption at 1,302.1 trillion British thermal units (Btu), according to DOE's Energy Information Administration. Because Indiana's industrial sector consumes approximately 45% of the total energy in the state, it has the greatest opportunity for improvement.
The Indiana team, led by the Purdue Technical Assistance Program (TAP), consisted of academia, utilities, industrial manufacturers, and the State Energy Office. As part of the project, the team implemented a multifaceted approach to lower industrial energy consumption. Their approach consisted of working with manufacturers to identify energy saving opportunities, providing training on tools to help analyze system specific opportunities, and utilizing technology demonstrations to educate companies about technologies available to reduce energy consumption. In addition, the team piloted the new ISO 50001 Energy Management Standard and the DOE Superior Energy Performance (SEP) manufacturing facility performance program. The team designed a public outreach effort that recruited Indiana manufacturers into the program and  publicized the program's results.
Purpose
Save Energy Now Indiana utilized Purdue TAP's existing Energy Efficiency Services (EES) program, TAP's Faculty Assistance program (TAP FA), the Indiana National Institute of Standards and Technology Manufacturing Extension Partnership (NIST MEP), the Green Workforce development program (GWF), and Purdue University's many centers and extensive campus resources. As part of the program, TAP worked to mitigate the need to build additional power plants and other utility infrastructure by expanding the scope of its EES so that it could reach a wider audience. Using the proven methodology of the NIST MEP lean manufacturing training and implementation services, Save Energy Now Indiana worked to give Indiana's largest energy consumers the knowledge and skills that will reduce future state electrical base load generation and natural gas needs. To accomplish this goal, Save Energy Now Indiana provided a comprehensive portfolio of energy assessments, training, and implementation assistance services to industrial facilities across Indiana. Save Energy Now Indiana also coordinated demonstrations of new technologies and assisted in their commercialization through the University's commercialization affiliate, the Purdue Research Park.
To provide Indiana's largest energy consumers the knowledge and skills they need to reduce their energy use, Purdue planned activities in seven categories:
Marketing and outreach
Training and implementation assistance
Public workshops
Energy assessments
Technology demonstration
Technology commercialization
Piloting the American National Standards Institute (ANSI) Superior Energy Performance (SEP)/ISO50001 Plant Certification Program
These activities took place in three phases over a three-year period, and Purdue TAP's contract with OED set forth key metrics for each of the project's three phases. The following section describes the activities and accomplishments within these seven categories.
Accomplishments
For marketing and outreach, the Save Energy Now Indiana Program completed a number of activities, including developing and maintaining a website for the program, regularly distributing a newsletter throughout the grant period, and regularly achieving third-party publication of articles about the program. The program developed 12 newsletters containing information on program success stories, energy-saving techniques for recipients to try, and information on additional energy efficiency offerings by DOE and other program partners. Over the life of the grant, nine newsletter articles on participant success and useful technologies also appeared in outside publications, helping to spread awareness of the program.
For training and implementation assistance, the program worked to engage company workers in energy saving activities through the Industrial Energy Efficiency Practitioner (IEEP) worker certificate program. The IEEP program is a full engagement model that teaches workers how to identify, quantify, justify, and implement cost savings projects. The IEEP requires a company to develop a team of project champions who are taught how to conduct their own energy savings opportunity assessment, perform root cause analysis, make a business case, and document implementation. Despite the downturn of the economy—which meant fewer companies were interested in paying upfront costs of energy-saving opportunities— the program was still able to engage six companies in IEEP team building over the course of the grant.
After taking the Energy Efficiency Practitioner Training program, one Indiana metal alloys manufacturer established a five-person energy savings team. This team identified and implemented energy projects that would result in an estimated $360,000 in annual natural gas savings.
In terms of public workshops, the Save Energy Now Indiana program was able to work with program partners to host workshops on steam, process heating, lighting, HVAC, chillers, motors, pumps, blowers, compressors, cogeneration, green building design, and financial decision making. The program successfully hosted 53 best practices workshops with DOE, as well 26 DOE Qualified Specialist workshops that train professionals specifically to use DOE energy assessment and analysis software. The program saw an average of 10 companies attending each workshop, with an average of 20 individual attendees per workshop.
In terms of energy assessments, the program worked with clients on several energy and environmental assessment options, and some assessments were packaged as part of IEEP training projects or coupled with on-site workshops. The program ended up completing 37 energy assessments over the course of the grant, surpassing its goal by two assessments.
As an example, one Indiana company participated in a lean assessment and decided to quickly make the recommended changes in order to optimize its processes. These improvements were made without the need for any new equipment and immediately resulted in a 0.6% reduction in waste, which saved $317,000 in annual production costs.
For demonstration, the Save Energy Now Indiana program participated in two events that allowed demonstration of energy efficient technologies. The first event was the Green Innovators in Business Network event, which featured panels with a wide focus on topics, including financing energy efficiency projects and state policy on sustainability. The event was organized by the Environmental Defense Fund (EDF) and supported by several Indiana-based organizations. The second event was the Indiana Energy Conference, which is an annual event that has come to serve as an energy efficiency demonstration opportunity for major industries in the state, including automotive and pharmaceutical industries. Purdue TAP EES served on the planning committee of the Indiana Energy Conference and worked to bring in speakers to demonstrate emerging energy-efficient technologies.
In terms of commercialization, the program partnered with the Purdue Research Park (the University's commercialization affiliate) and Purdue's many centers to develop a new pathway to faster commercialization of newly developed, energy-efficient technologies with the potential to save energy in manufacturing. This activity area had great success; it has helped 12 companies find incubation centers, vendors, inclusion on Purdue TAP's "Made in Indiana" website, or opportunities to include the new technology in Purdue TAP's energy workshops. The "Made in Indiana" website features more than 200 manufacturing companies in the state that are committed to forward thinking and that continually improve their productivity.
Finally, Save Energy Now Indiana was able to pilot the ANSI Superior Energy Performance (SEP)/ISO50001 Plant Certification program in Indiana through its marketing and outreach efforts and worked with three Indiana companies participating in the pilot portion of this program. One company achieved its certification before the grant finished, and another was on track to receive the certification in early 2013. Companies had to apply and interview with Purdue TAP for acceptance into the program.
Program Highlights
| Program Activity | Number Completed |
| --- | --- |
| Newsletters | 12 |
| Articles in Outside Publications | 9 |
| Companies Engaged in IEEP Team Building | 6 |
| Best Practices Workshops Hosted by DOE | 53 |
| Qualified Specialist Workshops Hosted by DOE | 26 |
| Energy Assessments | 37 |
| Demonstrations of New EE Technologies | 2 |
| Commercialization Assistance | 12 |
| Work with Company in Completion of ANSI Certification | 1 (possibly 2) |
Project Mission
To expand a partnership among academia, state offices, and utilities that will continue to help reduce the energy intensity of industrial manufacturers in Indiana. The industrial energy efficiency project will reduce industrial energy intensity and its associated carbon emissions throughout the state.
Project Funding
| | |
| --- | --- |
| Funding Source | U.S. Department of Energy, Advanced Manufacturing Office |
| Funding Amount | $800,001 |
| Project Period | 11/1/2009 to 10/31/2012 |
Project Benefits
Decreased industrial energy intensity in Indiana.
Reduced Indiana manufacturers' energy costs and help improve competitiveness.
Reduced the state's carbon emissions
Developed a center of excellence for Indiana manufacturers to help identify and implement energy efficiency measures.
Primary Investigators
Purdue University Technical Assistance Program, West Lafayette, Indiana
Indiana Office of Energy and Defense Development, Indianapolis, Indiana
Project Award Partners
Ame Drug Plastics and Gas Company, Inc., Oxford, Indiana
Duke Energy, Charlotte, North Carolina
Haynes International, Inc., Kokomo, Indiana
Hoosier Energy REC, Inc., Bloomington, Indiana
Indiana Industrial Energy Consumers, Inc., Indianapolis, Indiana
Indiana Manufacturing Extension Partnership, West Lafayette, Indiana
Indiana Michigan Power, Fort Wayne, Indiana
Indiana Municipal Power Agency, Carmel, Indiana
Indiana University-Purdue University, Indianapolis, Indiana
Indianapolis Power and Light Company, Indianapolis, Indiana
National Association of Power Engineers—Indianapolis Chapter # 4,  Indianapolis, Indiana
Peerless Pump Company, Indianapolis, Indiana
Purdue University Discovery Park Energy Center, West Lafayette, Indiana
Purdue University Technical Assistance Program, West Lafayette, Indiana
Purdue University Technology Centers, West Lafayette, Indiana
University of Dayton, Industrial Assessment Center, Dayton, Ohio
University of Illinois at Chicago, Energy Resource Center, Chicago, Illinois
University of Illinois at Chicago, Regional Application Center, Chicago, Illinois
Wabash Valley Power Association, Indianapolis, Indiana
Contacts
Tristan Vance
Office Director
Indiana Office of Energy Development
One North Capitol, Suite 700
Indianapolis, IN 46204
Phone: 317-232-8939
E-mail: tvance1@oed.in.gov
Jamey Evans
U.S. Department of Energy
Advanced Manufacturing Office
Phone: 720-356-1536
Email: jamey.evans@ee.doe.gov
Sandy Glatt
U.S. Department of Energy
Advanced Manufacturing Office
Phone: 720-356-1544
Email: sandy.glatt@ee.doe.gov
Last Updated: May 2014