You are here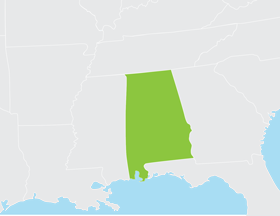 With a variety of energy-intensive industries, such as chemicals, metals, pulp, and paper located within the state, Alabama ranks eighth among states as the largest industrial energy user. Due to this high concentration of industry, the Alabama Department of Economic and Community Affairs (ADECA) formed a team, including the Alabama Technology Network (ATN) and the Alabama Industrial Assessment Center (AIAC), to inform industrial facilities about the U.S. Department of Energy's (DOE's) Advanced Manufacturing Office (AMO; formerly the Industrial Technologies Program) resources. The project team also aims to provide companies with assessments, implementation assistance, education and training at local centers, energy technology demonstrations, and marketing and outreach to effectively lower energy consumption within the state's industrial sector.
This work was funded as part of a set of grants awarded to 23 state and 5 regional entities in 2009 to help disseminate energy-saving resources and information to industrial manufacturers in their areas. In Alabama, the project aimed to work with small, medium, and large industrial companies to reduce their energy intensity by a minimum of 2.5% each year and to increase their continuous energy improvement capabilities.
The project team offered a comprehensive marketing and outreach strategy to deliver improved industrial energy efficiency through statewide industrial engagement in efficiency implementation and best practices. In addition, the initiative set the groundwork for establishing state legislature-sponsored funding to support industrial energy efficiency in the years following the project's completion.
Purpose
Assessments were at the center of the project team's efforts in Alabama. AIAC offered a mix of two‐day and one‐day assessments to large and medium‐sized companies, and ATN performed both lean manufacturing and energy assessments. ATN also provided Practical Energy (PE) assessments and training to smaller manufacturers that provided low‐cost, quick implementation and rapid payback solutions.
Other activities included offering energy trainings, such as certifying DOE Best Practices Qualified Experts, and various outreach and promotional activities, such as presentations and webinars. ADECA also understood the importance of making information easily available to interested parties. For this reason, the project involved the creation of an "Informational Clearinghouse," which provided a single location to assist clients looking for information on tax credits, incentive programs, and loan guarantees.
Accomplishments
During the grant period, the project team completed a total of 67 assessments. This included 14 energy assessments (9 medium plants and 5 large plants) performed by AIAC, along with 20 PE assessments and 33 lean assessments performed by ATN.
AIAC's energy assessments identified more than $2.4 million in energy-savings opportunities, which would translate into 35.6 million kilowatt hours (kWh) in annual electricity savings and an annual reduction in carbon dioxide emissions by more than 29,700 tons. In addition, the PE assessments identified $898,358 in energy-savings opportunities, which would result in 12.9 million kWh in annual electricity savings and an annual reduction in carbon dioxide emissions by more than 9,697 tons.
Among the 14 companies that completed an AIAC energy assessment, 6 have already implemented energy efficiency measures, resulting in more than $207,000 in annual electricity savings.
After participating in a PE assessment and lean event, one company implemented lean process recommendations, resulting in an estimated annual minimum cost savings of $132,000. The company also estimated a total annual savings of 230,872 kWh and an annual electrical cost savings of $16,161.
In terms of trainings, the project team delivered two DOE Best Practices Qualifications Trainings, two DOE End User Trainings, one PE Training, and one Utility/MEP Representative Training.
For marketing and outreach, the project team published an article in a local newspaper about the project, delivered six presentations about the program at local community meetings, and held three webinars and three "lunch and learns" to introduce the project and DOE tools.
In addition, the project team developed an information clearinghouse website that provides implementation assistance. The site provides information on both the types of systems and resources that are available.
The project's funding also helped support the Alabama Economy, Energy, and Environment (E3) Program, which strives to help companies—particularly manufacturers—improve their sustainability and save costs through reductions in wastes. Without the support of this grant, the E3 activities would not have been viable.
As a result of an E3 assessment, one company scheduled a continuous improvement staff team to capture the savings opportunities identified through lean and energy enhancements. One lean event reduced transportation waste by 7,329 miles per year. A second event potentially saved the company more than $100,000 a year in energy savings as well as cost avoidance through better utilization of available space. In addition, an E3 lighting and compressed air assessment identified energy-savings opportunities of $36,232 per year.
The partnership between ADECA, ATN, AIAC, and other Alabama E3 partners has laid the groundwork for participation in other programs and initiatives, which are helping to improve communication between industries and service providers, utilities, the state, and other key partners. These collaborative efforts allow for better understanding between stakeholders and the development of programs and services that address actual, identified needs of industries.
Program Highlights
| Program Activity | Number Completed |
| --- | --- |
| Energy Assessments | 14 |
| PE Assessments | 20 |
| Lean Assessments | 33 |
| Energy Trainings | 6 |
| Marketing Presentations | 6 |
| Webinars / Lunch & Learns | 6 |
| Information Clearinghouse | 1 |
Project Mission
To reduce industrial energy intensity and increase education about energy management in the state.
 
Project Funding
| | |
| --- | --- |
| Funding Source | U.S. Department of Energy, Advanced Manufacturing Office |
| Funding Amount | $376,569 |
| Project Period | 05/01/2011 to 9/30/2013 |
 
Project Benefits
Identified more than $3 million in energy-savings opportunities through assessments for industrial companies of all sizes.
Expanded a qualified workforce by certifying professionals through trainings.
Developed an information clearinghouse website on implementation assistance.
Supported the growth of Alabama E3 and leveraged funds to expand the program.
Primary Investigators
Alabama Department of Economic and Community Affairs, Montgomery, AL
Project Award Partners
Alabama Technology Network, Birmingham, AL
Alabama Industrial Assessment Center, Tuscaloosa, AL
University of Alabama, Tuscaloosa, AL
Alabama Power, Birmingham, AL
Tennessee Valley Authority, Chattanooga, TN
Manufacture Alabama, Montgomery, AL
Alabama Automotive Manufacturer's Association, Birmingham, AL
Alabama Aerospace Industry Association, Birmingham, AL
Specification Rubber Projects, Inc., Alabaster, AL
University of Alabama in Huntsville, Huntsville, AL
Contacts
Dana Stone
Alabama Technology Network
500 Beacon Parkway West
Birmingham, Alabama 35209
Phone: 205-943-4806
Fax: 205-943-4813
Email: dstone@atn.org
Jamey Evans
U.S. Department of Energy
Advanced Manufacturing Office
Phone: 720-356-1536
Email: jamey.evans@ee.doe.gov
Sandy Glatt
U.S. Department of Energy
Advanced Manufacturing Office
Phone: 720-356-1544
Email: sandy.glatt@ee.doe.gov
Last Updated: July 2014