You are here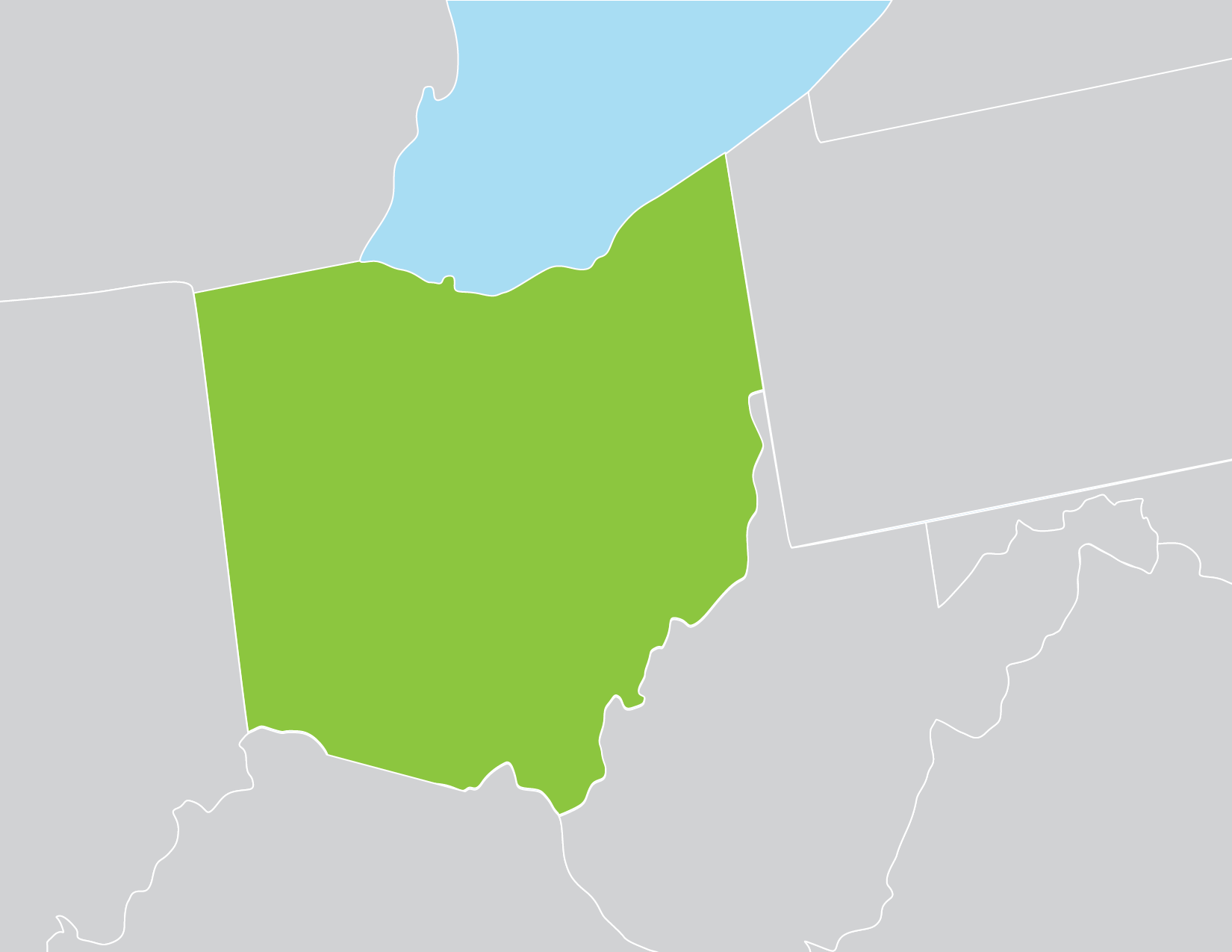 The U.S. Department of Energy's (DOE's) Advanced Manufacturing Office (AMO; formerly the Industrial Technologies Program) has developed multiple resources and a best practices suite of tools to help industrial manufacturers reduce their energy intensity. AMO adopted the Energy Policy Act of 2005 objective of reducing industrial energy intensity 2.5% annually over the next 10 years. To help achieve this goal, AMO engaged state and regional partners to help disseminate the resources and information to industrial manufacturers in their areas, and in 2009, AMO awarded grants to 23 states and five regional entities to further these efforts. The State of Ohio was awarded one of these grants for the Ohio Center for Industrial Energy Efficiency (OCIEE).
The Office of Energy, within the Ohio Development Services Agency (ODSA), partnered with Energy Industries of Ohio (EIO) to establish a cooperative program to assist industrial companies with adopting energy efficiency in their facilities. EIO worked as Program Manager for the Ohio Industries of the Future Program and supported DOE's Save Energy Now program in cooperation with the Office of Energy for the past 12 years. In that time, EIO and the Office of Energy established an active statewide effort in support of DOE and AMO's objectives.
As part of this effort, the partners established OCIEE to serve as a focal point for industrially directed energy-efficiency activities. The project would create an infrastructure to deliver advanced energy efficiency products and services in a cost-effective manner in Ohio, and would then expand to surrounding areas over the longer term.
Purpose
The project provided industrial companies with energy assessments, implementation assistance, energy management training, outreach and marketing services, and technology demonstration and commercialization assistance.
The program was intended to utilize the support tools created by DOE through programs such as Better Buildings, Better Plants and Superior Energy Performance (SEP), as well as to continue various activities OCIEE was already performing. The project provided Energy Savings Assessments (ESAs) as part of the in-plant training effort in the Better Plants Program, as well as in selected energy-consuming facilities within Ohio. The project was also designed to support the SEP program by developing in-state expertise for Certified Practitioners in Energy Management Systems (CP EnMS) and SEP-qualified Performance Verifiers. The program offered Best Practices Training and support for Ohio's Four Phase Program – the Energy Efficiency Program for Manufacturers –which encourages energy efficiency in manufacturing.
Outreach support and facilitator participation was provided for the Energy Efficiency Program for Manufacturers, a program for industrial energy efficiency in Ohio that is funded via the annual State Energy Program and Ohio's Energy Loan Fund.  The advisory working group, which included all of Ohio's investor-owned utilities (gas & electric) and trade organizations, was a key component of the success of OICEE. It provided access to utility customer and programmatic activities that complement Ohio's industrial energy efficiency programs.
Finally, the program was designed to also support technology development and potential job creation through commercialization activities associated with advanced high-temperature material processing..
Accomplishments
The program offered both DOE Best Practices Trainings, as well as a training course on chiller systems developed in house. Individual utility partners hosted these training sessions, contributing all the costs to conduct the training outside of those of the instructor. These eight training sessions consisted of two Process Heating Assessment and Survey Tool (PHAST) end-user trainings, four compressed air end-user trainings, one pumping systems assessment tool training, and one advanced compressed air training.
As mentioned, the program partners developed an energy efficiency course entitled "Introduction to Energy Efficiency in Chiller Plant Systems." The inaugural training course had 41 participants and 20 utility representatives. Future sessions are planned for Ohio utility customers and are being offered in utility territories outside of Ohio.
Overall, the six training classes drew more than 200 attendees.
In addition to these trainings, OCIEE assisted the State of Ohio in setting up training sessions for the seven Four-Phase Program facilitators in the state in order for them to become CP EnMS. As a result, six individuals finished the training and qualified as CP EnMS. Having 6 of the 60 trained CP EnMSes nationwide, Ohio is well positioned to assist companies in implementing ISO 50001 and SEP within their organizations.
During this project, OCIEE conducted 14 EnVinta assessments, which highlight management attitudes and procedures in place related to energy management and recommend steps to improve management's approach to energy. Participation of the facility's plant manager, production manager, technical manager, financial manager, and maintenance manager (or the equivalent for smaller facilities) was required in the 2-hour, computer-based EnVinta assessment.
OCIEE also completed eight technical assessments, which were required to be cost-shared (50-50 company/state, with a maximum state contribution of $15,000), as well as a management plan based on the results of the earlier work. Detailed technical assessments were conducted to identify energy efficiency opportunities by specialized energy efficiency contractors. Cost share was provided by the Office of Energy at ODSA. The program focused on implementation assistance grants, which were available through either a systems benefit charge collected by the state or through American Recovery and Reinvestment Act of 2009 funding. The cost-share aspect of the project ensured that the companies receiving technical assistance were serious about implementing energy efficiency.
OCIEE also conducted 10 targeted ESAs, which included six PHAST ESAs, three compressed air ESAs, and one steam system ESA.
As part of its technology demonstration activities, EIO arranged for four companies that were active in the technical assessment/implementation phase to make presentations on their work and the resulting benefits. This event was held in a classroom setting, and the session was attended by 77 industry participants.
The program held two recognition events in conjunction with the Ohio Energy Management Conference in February 2010 and February 2011. During these events, 16 Energy Saver and Energy Champions (awarded distinction by AMO) were recognized. Approximately 300 attendees were present at each event.
A final accomplishment of the project was to support technology commercialization.  As part of this, the program helped EIO to establish demonstration tests of the high-temperature alloys identified in its Advanced Ultra-Supercritical Boiler and Turbine projects. As a direct result of EIO's efforts to identify appropriate candidate components and introduce new, next-generation, high-temperature materials for casting, there is outside interest in commercialization.
Program Highlights
| Program Activity | Number Completed |
| --- | --- |
| EnVinta Assessments | 14 |
| Technical Assessments | 8 |
| Targeted ESAs | 10 |
| Trainings | 8 |
| Outside presentations | 3 |
| Technology Demonstration Event | 1 |
| Recognition Events | 2 |
| Development of new energy efficiency courses | 1 |
| Case Studies | 2 |
Project Mission
To reduce industrial energy intensity in the state 2.5% each year of the 3-year project period—7.5% overall.
Project Funding
| | | |
| --- | --- | --- |
| Funding Source | American Recovery and Reinvestment Act of 2009 | U.S. Department of Energy, Advanced Manufacturing Office |
| Funding Amount | $349,997 | 541,569 |
| Project Period | 9/30/09 to 9/30/2011 | 5/1/2011 to 12/31/2013 |
Project Benefits
Increased energy efficiency educational opportunities through training sessions and outreach services.
Projected energy savings totaling 5.4 trillion Btu per year at the end of the 3-year project period.
Anticipated emissions reduction of approximately 300,000 tons of carbon dioxide per year at the end of the project period.
Primary Investigators
Energy Industries of Ohio, Independence, Ohio
Ohio Development Services Agency, Office of Energy, Columbus, Ohio
Project Award Partners
Air Power USA, Pickerington, Ohio
American Electric Power Co., Columbus, Ohio
Case Western Reserve University, Center for Melting Efficiency and Thermal Technology, Cleveland, Ohio
Duke Energy, Cincinnati, Ohio
Energy Information Systems, Dayton, Ohio
FirstEnergy, Akron, Ohio
JCC Energy-Solutions, LLC, Akron, Ohio
University of Dayton, Industrial Assessment Center, Columbus, Ohio
Columbia Gas of Ohio, Middleburg Heights, Ohio
Dominion East Ohio, Cleveland, Ohio
Ohio Cast Metals Association, Columbus, Ohio
Ohio Manufacturers' Association, Columbus, Ohio
Contacts
Karen Fabiano
Ohio Development Services Agency
Phone: 614-466-5863
Karen.Fabiano@development.ohio.gov   
Jamey Evans
U.S. Department of Energy
Advanced Manufacturing Office
Phone: 720-356-1536
Email: jamey.evans@ee.doe.gov
Sandy Glatt
U.S. Department of Energy
Advanced Manufacturing Office
Phone: 720-356-1544
Email: sandy.glatt@ee.doe.gov
Last Updated: January 2015