You are here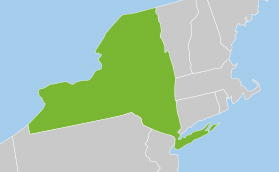 Recognizing the potential for increased energy and cost savings, the New York Public Service Commission enacted an Energy Efficiency Portfolio Standard (EEPS) to help the state reduce electricity and natural gas consumption. In support of this goal, the New York State Energy Research and Development Authority (NYSERDA) developed energy efficiency programs to help the state achieve compliance with EEPS, including the Industrial and Process Efficiency Program.
In 2009, the U.S. Department of Energy's (DOE's) Advanced Manufacturing Office (AMO; formerly the Industrial Technologies Program) awarded grants to 23 state and 5 regional entities to help disseminate energy-saving resources and information to industrial manufacturers in their areas. Utilizing the DOE grant, NYSERDA partnered with consultants, universities, and manufacturing associations to benchmark industrial energy and carbon intensity in New York and establish an Industrial Partnership Network to perform industrial outreach, which identified 113 energy efficiency and productivity projects. The Network focused on upstate New York, which has the heaviest concentration of industry in the state.
Purpose
NYSERDA planned activities during the project period that were designed to help meet state and federal industrial energy intensity reduction goals—contributing 84,000 megawatt-hours in electric reduction by 2015. Efforts were mainly concentrated in the areas of benchmarking and market characterization, marketing and outreach to encourage project implementations, and identifying process consultants.
Specifically, NYSERDA pursued the following goals:
Benchmarking the energy use of different industrial sectors in upstate New York to better determine which companies would benefit the most from energy efficiency improvement projects.
Identifying existing energy process experts in the most energy-intensive sectors to involve in outreach.
Creating an Industrial Partnership Network, with key organizations already interested in industrial energy efficiency, to perform focused outreach and engagement with industrial customers to encourage their participation in NYSERDA's Industrial and Process Efficiency and FlexTech Programs. NYSERDA also offered the Network a performance-based recruitment incentive for program participation.
Accomplishments
NYSERDA created a report titled Benchmarking Electricity Consumption and Carbon Dioxide from New York State's Industrial Focus Sector. This report classified the six most energy-intensive industrial sectors with the largest carbon footprints in the state. This report was updated in 2011 and 2012 to reflect information that had become available during the project period. In the final issuance of the report, the six most energy-intensive sectors were determined to be paper, chemicals, food, fabricated metal products, plastics and rubber products, and non-metallic mineral products.  This effort was the subject of a white paper that was presented at the 2013 American Council for an Energy-Efficient Economy's (ACEEE's) Industrial Summer Study on Energy Efficiency in Industry and is available online through ACEEE.
Based on this report, NYSERDA completed a series of fact sheets—Improving Industrial Efficiency – Target Processes and Machinery—for targeted subsectors. The fact sheets provide common energy-saving practices that can be applied to operations, as well as information on how to seek additional support. Select fact sheets are available on the NYSERDA website.
Throughout the project period, NYSERDA and the project award partners held outreach activities, including presentations to state manufacturers, stakeholders, chambers of commerce, economic development corporations, and industrial development agencies to explain the goals of the project. In addition to these outreach efforts, members of the project team also gave presentations at a Syracuse University Symposium on Environmental and Energy Systems in 2012 and at the 2011 and 2013 ACEEE Summer Studies on Energy Efficiency in Industry.
Although the funding period has ended, NYSERDA continues to work to increase energy efficiency in New York by providing capital incentives and technical assistance for projects that improve energy efficiency and productivity at industrial sites.
Program Highlights
| Program Activity | Number Completed |
| --- | --- |
| Annual Program Meetings | 3 |
| Improving Industrial Efficiency fact sheets | 5 |
| Industrial Projects | Identified Electric Savings | Identified Gas Savings |
| --- | --- | --- |
| 113 | 165,880,000 kilowatt-hours | 388,000 million Btu |
One of the many projects identified was improvements to a rotary fire polisher at a press ware plant located in Corning, New York. The plant developed a rotary fire-polishing machine with newer control components and fewer moving parts, upgraded polishing burners, and implemented new tooling—resulting in close to a 30% increase in productivity due to its faster processing time and reduction in product defects. These changes allowed the machine to increase the number of good pieces per year and resulted in a yearly reduction of $192,000 in energy costs for the company.
Project Mission
To determine the most energy-intensive sectors of New York's industrial economy and to target companies within these sectors to implement energy efficiency and productivity improvement projects.
Project Funding
| | |
| --- | --- |
| Funding Source | U.S. Department of Energy, Advanced Manufacturing Office |
| Funding Amount | $880,904 |
| Project Period | 11/1/2009 to 10/31/2012 |
Project Benefits
Created a guide to energy use in the industrial sector within New York that identified those companies most likely to benefit from outreach activities meant to reduce energy use.
Published fact sheets targeting the industrial sectors within the state that have the largest electric energy intensity and carbon footprint. The fact sheets presented easy energy-saving tips tailored to specific activities within those sectors.
Participated in multiple discussions with local area governments about how to incentivize more energy-saving activities in the future.
Used the energy-intense target lists, the existing relationships of Industrial Network Partners, and the NYSERDA program outreach methods to achieve 197% of the targeted electricity savings goal.
Primary Investigators
New York State Energy Research and Development Authority, Albany, New York
Project Award Partners
(members of the Industrial Partnership Network)
ANTARES Group, Inc., Fayetteville, New York
Manufacturers Association of Central New York, Syracuse, New York
Multiple Intervenors, Albany, New York
State University of New York, College of Environmental Science and Forestry, Syracuse, New York
Syracuse University, Syracuse Center of Excellence in Environmental and Energy Systems, Syracuse, New York
Contacts
Stacey Sabo
New York State Energy Research and Development Authority
17 Columbia Circle
Albany, NY 12203-6399
Phone: 866-697-3732 x3037
E-mail: sls@nyserda.ny.gov
Jamey Evans
U.S. Department of Energy
Advanced Manufacturing Office
Phone: 720-356-1536
Email: jamey.evans@ee.doe.gov
Sandy Glatt
U.S. Department of Energy
Advanced Manufacturing Office
Phone: 720-356-1544
Email: sandy.glatt@ee.doe.gov
Last Updated: May 2014